DJ Ideal - Pitbull: Unleashed, Vol. 6
Submitted by mfizzel on Thu, 06/01/2006 - 12:46pm.
Reggaeton | DJ Ideal | Mixtape Torrents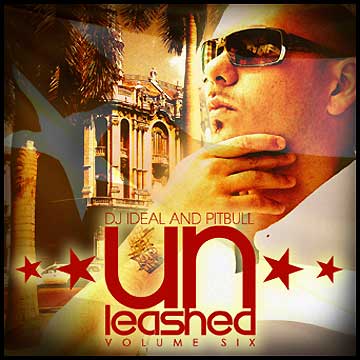 DJ Ideal and his brother-from-another-mother Pitbull kick off the huge
street promotional campaign for the sophomore album from Miami's new
King of the Club. Known for his addiction to the 305 style of bass music
that has defined the careers of 2 Live Crew and his mentor 'Uncle' Luke,
Pitbull unleashes his 6th official mixtape with DJ Ideal. In preparation for
Pit's upcoming album El Mariel this joint features new tracks & freestyles.

1 - Pitbull - Intro
2 - Bojangles feat. Lil' Jon
3 - Holla At Me Baby feat. DJ Khaled, Lil' Wayne, Paul Wall, Fat Joe & Rick Ross
4 - Hold Up Wait A Minute
5 - Gettin Some Head (remix) feat. Shawnna, Ludacris, Lil' Wayne & Pharrell
6 - Born & Raised feat. DJ Khaled, Trick Daddy & Rick Ross
7 - DJ Ideal feat. Pitbull & Paul Wall - Get Money
8 - Pitbull - Interlude - El Mariel Coming Soon
9 - Motivation - Freestyle
10 - Bun B - Interlude - Showing Love
11 - Snap Yo Fingers (remix) feat. Lil' Jon, E-40 & Sean Paul
12 - You Aint Know feat. Lil' Scrappy & Bohagon
13 - Pitbull - Interlude
14 - Warning - Freestyle
15 - We Don't Need It
16 - Prove Me Wrong
17 - Pitbull - Interlude
18 - Hail Mary - Freestyle
19 - Pitbull - Shouts To Da Bottom
20 - Cubo feat. Chingo Bling - M.I.A.M.I. (remix)
21 - Pitbull - Interlude
22 - Thug Love - Freestyle
23 - Pitbull - Shouts To All The DJ's
24 - Do The Hustle - Prod.By Irv Gotti
25 - Pitbull - Interlude
26 - Rakata (remix) feat. DJ Buddah & Ja Rule
27 - Pitbull - The Truth
28 - Love With A Stripper - Freestyle
29 - Rock Bottom feat. Cubo
30 - I'm On feat. Paul Wall, $tacks, Paul Wall & MJG
31 - Slim Thug Checks In
32 - You Better Tell Her feat. Teedra Moses & Lil' Scrappy
33 - Hot 97 Summmer Jam - Toma Live
34 - I'm Sprung (remix) feat. T-Pain, Youngbloodz & Trick Daddy
35 - Pitbull - Outro
How To DOWNLOAD