DJ Ideal - Da Bottom Vol. 8 (Hosted By Paul Wall)
Submitted by mfizzel on Fri, 03/03/2006 - 3:32pm.
Mixtape Directory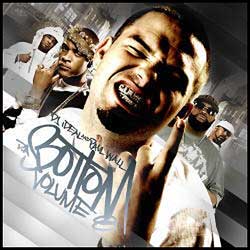 DJ Ideal is joined by People's Champ Paul Wall as this duo joins forces
to continue the Da Bottom movement. Featuring a handful of exclusives
from the host, this joint also offers new nusic from UGK, Young Jeezy,
T.I., Eightball & MJG, Lil' Wayne, GRiT Boys, Three-6-Mafia, Trillville, Lil'
Keke, Trae, Cam'ron, Project Pat, Pitbull, Smitty, Dirtbag & Rick Ross...
1 - DJ Ideal & Paul Wall - Intro
2 - Bun B - DJ Ideal Is UGK Family - Interlude
3 - Paul Wall feat. Lil' Keke & Bun B & Pimp C - Chunk Up A Duece
4 - DJ Ideal feat. Pitbull & Paul Wall - Get Money
5 - Smitty - Little Hatti [produced by The Runners]
6 - DJ Drama feat. Busta Rhymes & T.I. - Cannon
7 - It's Paul Wall & DJ Ideal
8 - Young Jeezy feat. Slick Pulla - Step Stomp
9 - Paul Wall - Shout To The H - Interlude
10 - Paul Wall feat. The Gritboyz - Now or Later Paint
11 - Smitty feat. Akon - I Wonder
12 - Smitty- Come Back Money - Interlude
13 - T.I. - Dip Slide Ride Out
14 - Get A Disco Ball In Your Mouth // (832) 661-5664
15 - Triville feat. Three-6-Mafia & Project Pat - Hee Haw
16 - Paul Wall - Speaks
17 - Paul Wall feat. Trae - Welcome To The South
18 - Dirtbag feat. Dre - Bring It Back To Da Bottom
19 - Dirtbag - Ideal Bring It Back - Interlude
20 - The Gritboyz feat. Lil' Keke - I'ma Come Down
21 - Lil' Wayne & Cam'ron - Suck It Or Not
22 - DJ Ideal feat. Paul Wall & The Gritboyz - Freestyle
23 - Pitbull - Gunshine State - Interlude
24 - Pitbull - Hustle (Break It Down) [produced by Irv Gotti]
25 - Smitty - You Can't Get That Record - Interlude
26 - Smitty feat. Akon - I'm A Hustler
27 - 8 Ball & MJG - Freestyle
28 - Bun B feat. Jermaine Dupri & DFB - Make My Music
29 - Pitbull feat. Cubo - What It Is
30 - Pitbull - Drop A Mixtape - Interlude
31 - Young Jeezy - Chasing It (Baby I'm A Hustler)
32 - C-Ride - Trapstar - Freestyle
33 - Cubo feat. Jimmy Chocolate - M.I.A.M.I.
34 - Rick Ross - H Town - Freestyle
35 - DJ Ideal - Outro
How To DOWNLOAD