DJ Ill Will & DJ Rockstar - I Love Your Girl 5
Submitted by mfizzel on Mon, 02/16/2009 - 9:50am.
R&B | DJ Ill Will | Mixtape Torrents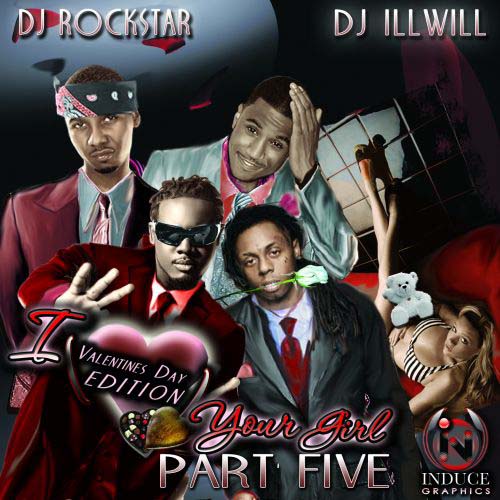 Once again DJ Rockstar & DJ Ill Will are back with the hottest new R&B premieres and exclusives, this time they laced us with the Valentines Day edition just in case you didnt get the roses or chocolates this one is promised to get you some V-Day love!
Big up to DJ Ill Will & S Class for showing www.mixtapetorrent.com love on the intro!
01 - S Class - Intro
02 - Drake - Best I Ever Had
03 - Ron Browz Ft. R.Kelly - Club To A Bedroom
04 - Slim - Heels On (Remix) (Ft Ron Browz & Deezo)
05 - Jeremih - My Ride
06 - Roderic - You (Remix) Feat. Chris Brown
07 - T-Pain Ft. Lil' Wayne - Snap Your Fingaz
08 - Drake - Houstatlantavegas
09 - Young Money - Every Girl (Feat. Lil Wayne, Drake, Jae Millz, Gudda Gudda &
Mack Maine) (Prod By Tha Bizness)
10 - The-Dream - Rockin' That Shit (Remix) (Feat. Fabolous, Juelz Santana, Rick
Ross & Ludacris)
11 - Drake - November 18Th
12 - Trey Songz - Don't Wanna Come Down
13 - Young Keno - Hood Famous (Ft. Jah Free)
14 - Charles Hamilton - Lip Service
15 - Tyga Ft. Lloyd - Get Away
16 - Bobby Valentino - Hands On Me
17 - Drake - A Night Off (Feat. Lloyd)
18 - Pleasure P - They Must Be (Prod. By Co-Stars)
19 - Kay L - Being Me
20 - Roderic Feat Sean Carson - Miss Ma (Feat. Sean Carson) (Prod By Maestro)
21 - Lil' Wayne Ft. Juelz Santana & Starr - Rockstar
22 - Marliek - Tell Me Whatz Good
23 - Drake - Successful (Feat. Trey Songz & Lil' Wayne)
How To DOWNLOAD