DJ Kool Kid and G-Unit - Ski Mask Way 2
Submitted by mfizzel on Tue, 11/29/2005 - 5:07pm.
Mixtape Directory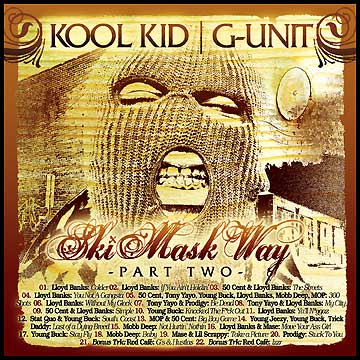 DJ Kool Kid is back blasting that G-Unit sh*t and doing things the
Ski Mask Way on this major G-Unit sequel. This mixtape is packed w/
more than 20 tracks of non-stop heat from the masters of the mixtape,
G-G-G-G-G-Unit. Yayo, Buck, Banks, 50, MOP, Mase and Mobb Deep.
1 - Lloyd Banks - Colder
2 - Lloyd Banks - If You Ain't Holdin'
3 - 50 Cent & Lloyd Banks - The Streets
4 - Lloyd Banks - You Not A Gangsta
5 - 50 Cent, Tony Yayo, Young Buck, Lloyd Banks, Mobb Deep, MOP - 300 Shots
6 - Lloyd Banks - Without My Glock
7 - Tony Yayo & Prodigy - Be Dead
8 - Tony Yayo & Lloyd Banks - My City
9 - 50 Cent & Lloyd Banks - Simple
10 - Young Buck - Knocked The Fuck Out
11 - Lloyd Banks - Ya'll Niggaz
12 - Stat Quo & Young Buck - South Coast
13 - MOP & 50 Cent - Big Boy Game
14 - Young Jeezy, Young Buck, Trick Daddy - Last of a Dying Breed
15 - Mobb Deep - Not Hurtin' Nothin
16 - Lloyd Banks & Mase - Move Your Ass Girl
17 - Young Buck - Stay Fly
18 - Mobb Deep - Baby
19 - Mase & Lil Scrappy - Take a Picture
20 - Prodigy - Stuck To You
BONUS TRACKS - Red Cafe
21 - Red Cafe - G's & Hustlas
22 - Red Cafe - Izzr
How To DOWNLOAD