DJ Rondevu - Get Rich Or Die Trying Edition Volume 10 (Instrumentals)
Submitted by mfizzel on Sun, 11/27/2005 - 6:41pm.
Mixtape Directory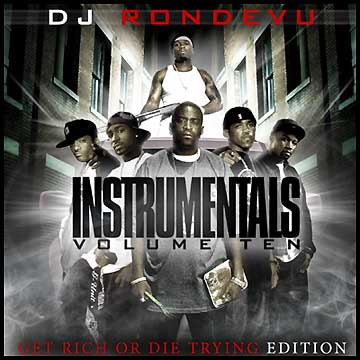 DJ Rondevu gets into a rare instrumental joint, bangin' out mad new
beats from the Get Rich Or Die Trying soundtrack + classic 50 Cent
and G-Unit instrumentals. With access to the craziest beats in the
industry, you know this mixtape is STACKED. You may not 'get rich'
off of this joint , but you will have a crazy azz mix to freestyle to...

1 - 50 Cent, Lloyd Banks, Mase, Prodigy – Spider Loc – I Don't Know Officer
2 - 50 Cent, Lloyd Banks & Young Buck – You Already Know
3 - 50 Cent & M.O.P. – When Death Becomes You
4 - Lloyd Banks – Turnin You Into A Customer
5 - Lloyd Banks – Victim Of Society
6 - 50 Cent – What If
7 - 50 Cent - Hustler's Ambition
8 - Tony Yayo – Fake Love
9 - Lloyd Banks – Born Alone, Die Alone
10 - Tony Yayo - Tattle Teller
11 - Young Buck – Hoe Gon Be A Hoe
12 - Mobb Deep – Cobra
13 - Lloyd Banks – 6 Figga Nigga
14 - Tony Yayo – Curious
15 - 50 Cent - Talk About Me
16 - Lloyd Banks – It Aint A Secret
17 - 50 Cent & Mobb Deep – Outta Control (remix)
18 - Tony Yayo – Pimpin
19 - 50 Cent & Lloyd Banks – Porno Star
20 - Tony Yayo – Drama Setter
21 - 50 Cent – Window Shopper
22 - Tony Yayo & 50 Cent – I Know You Don't Love Me
23 - 50 Cent & Young Buck – I'll Whip Ya Head Boy
BONUS TRACKS (not instrumentals)
24 - 50 Cent – When It Rains It Pours
25 - 50 Cent – Ghetto Quran
How To DOWNLOAD