DJ L - Money On My Mind Part 1 (Hosted By Weezy)
Submitted by mfizzel on Thu, 03/23/2006 - 6:51am.
Mixtape Directory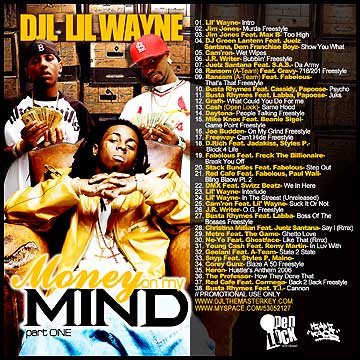 DJ L's got his mind on his money and his money on his mind on this crazy hip-hop mixtape hosted by Lil' Wayne. Taking you more than 35 tracks and freestyles deep on this joint, Birdman Junior helps L bang out new sh*t from Busta Rhymes, Cam'ron, Joe Budden, Grafh, Juelz Santana, Corey Gunz, Fabolous, Red Cafe, Jim Jones, T.I., Cormega, Snyp Life & Styles P, A-Team, Ransom, Freeway and more.

1 - Lil' Wayne - Intro
2 - Jim Jones - Murda Freestyle
3 - Jim Jones feat. Max B - Too High
4 - DJ Green Lantern feat. Juelz Santana, Dem Franchise Boyz - Show You What
5 - Cam'ron - Wet Wipes
6 - J.R. Writer - Bubblin' Freestyle
7 - Juelz Santana feat. S.A.S. - Da Army
8 - Ransom (A-Team) feat. Gravy - 718/201 Freestyle
9 - Ransom (A-Team) feat. Fabolous - That's That Freestyle
10 - Busta Rhymes feat. Cassidy, Papoose - Psycho
11 - Busta Rhmes feat. Labba, Papoose - Juks
12 - Grafh - What Could You Do For me
13 - Cash (Open Lock) - Same Hood
14 - Daytona - People Talking Freestyle
15 - Mike Knox feat. Beanie Sigel - Game Point Freestyle
16 - Joe Budden - On My Grind Freestyle
17 - Freeway - Can't Hide Freestyle
18 - D.Rich feat. Jadakiss, Styles P. - Block 4 Life
19 - Fabolous feat. Freck The Billionaire - Break You Off
20 - Stack Bundles feat. Fabolous - Step Out
21 - Red Cafe feat. Fabolous, Paul Wall - Bling Blaow Pt. 2
22 - DMX feat. Swizz Beatz - We In Here
23 - Lil' Wayne - Interlude
24 - Lil' Wayne - In The Streets (Unreleased)
25 - Cam'ron feat. Lil' Wayne - Suck It Or Not
26 - J.R. Writer - O.G. Freestyle
27 - Busta Rhymes feat. Labba - Boss Of The Bosses Freestyle
28 - Christina Millian feat. Juelz Santana - Say I (Rmx)
29 - Metro feat. The Game - Ghetto Love
30 - Ne-Yo feat. Ghostface - Like That (Rmx)
31 - Young Cash feat. Remy Martin - In Luv With
32 - Geolani feat. A-Team - State 2 State
33 - Snyp feat. Styles P, Maino -
34 - Corey Gunz - Blaze A 50 Freestyle
35 - Heron - Hustler's Anthem 2006
36 - The Professor - How They Done That
37 - Red Cafe feat. Cormega - Back 2 Back Freestyle
38 - Busta Rhymes feat. T.I. - Cannon
How To DOWNLOAD