DJ L - Money On My Mind Part 6 (Hosted By Rick Ross)
Submitted by mfizzel on Wed, 06/21/2006 - 10:51am.
General | DJ L | Mixtape Torrents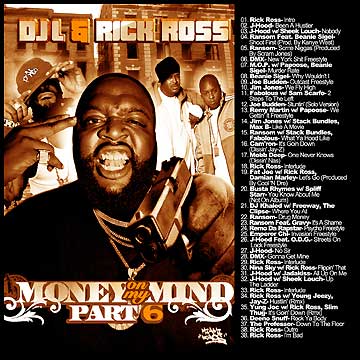 DJ L and Miami King Rick Ross (the fu%#ing boss!) team up to bring
you the 6th edition of Money On My Mind, so naturally these cats are
thinking bout that 'fetti. With a pocket full of new hip-hop sh*t for your
iPod, L & Ross bang out to more than 35 tracks, including joints from
J-Hood, Papoose & Beanie Sigel, Joe Budden, Fabolous/Sam Scarfo,
Remy Ma, DMX, Busta, Fat Joe, Cam'ron, Mobb Deep, Stack Bundles.

1 - Rick Ross- Intro
2 - J-Hood- Been A Hustler
3 - J-Hood feat. Sheek Louch- Nobody
4 - Ransom feat. Beanie Sigel- Shoot First (produced by Kanye West)
5 - Ransom- Some Niggas (produced by Scram Jones)
6 - DMX- New York Shit Freestyle
7 - M.O.P. feat. Papoose, Beanie Sigel- Murder Rate
8 - Beanie Sigel- Why Wouldn't I
9 - Joe Budden- Outkast Freestyle
10 - Jim Jones- We Fly High
11 - Fabolous feat. Sam Scarfo- 2 Steps To The Left
12 - Joe Budden- Stuntin' (solo version)
13 - Remy Martin feat. Papoose- We Gettin' It Freestyle
14 - Jim Jones feat. Stack Bundles, Max B- Like A Movie
15 - Ransom feat. Stack Bundles, Fabolous- What Ya Hood Like
16 - Cam'ron- It's Goin Down (Dissin' Jay-Z)
17 - Mobb Deep- One Never Knows (Dissin' Nas)
18 - Rick Ross- Interlude
19 - Fat Joe feat. Rick Ross, Damian Marley- Let's Go (produced by Cool 'N Dre)
20 - Busta Rhymes feat. Spliff Starr- You Know About Me (not on album)
21 - DJ Khaled feat. Freeway, The Clipse- Where You At
22 - Ransom- Drug Money
23 - Ransom feat. Gravy- It's A Shame
24 - Remo Da Rapstar- Psycho Freestyle
25 - Emperor Chi- Invasion Freestyle
26 - J-Hood feat. O.D.G.- Streets On Lock Freestyle
27 - J-Hood- No Sir
28 - DMX- Gonna Get Mine
29 - Rick Ross- Interlude
30 - Nina Sky feat. Rick Ross- Flippin' That
31 - J-Hood feat. Jadakiss- All Up On Me
32 - J-Hood feat. Sheek Louch- Up The Ladder
33 - Rick Ross- Interlude
34 - Rick Ross feat. Young Jeezy, Jay-Z- Hustlin' (remix)
35 - Yung Joc feat. Rick Ross, Slim Thug- It's Goin' Down (remix)
36 - Deeno Snuff- Rock Ya Body
37 - The Professor- Down To The Floor
38 - Rick Ross- Outro
39 - Rick Ross- I'm Bad
How To DOWNLOAD