DJ L - Satisfaction Guaranteed #8
Submitted by mfizzel on Fri, 09/01/2006 - 6:23am.
R&B | DJ L | Mixtape Torrents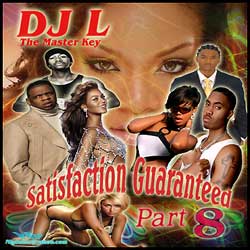 'The Master Key' DJ L makes it a perfect fit
with this latest round of the hottest R&B
around. With so many hot R&B tracks released
recently, this mixtape Guarantees a satisfying
listen.
With a new batch of club tracks, slow jams,
remixes, R&B/hip-hop collabos and sexy R&B
tracks from Kelis & Nas, Beyonce & Swizz
Beatz, Danity Kane & T.I., Omarion & Papoose,
Janet Jackson & Nelly w/ Lil' Jon, Akon, Trey
Songz, Megan Rochelle & Joe Budden and more.
Production from Scott Storch, Jazzy Pha,
Timbaland, Swizz Beatz, DJ Premier, Lil' Jon and
more.

1 - Beyonce - Ring The Alarm (produced by Swizz Beatz)
2 - Kelis feat. Nas - Blindfold Me
3 - Paris Hilton feat. Fat Joe, Jadakiss - Fightin' Over Me (Full Song) (produced by Scott Storch)
4 - Akon - Smack That
5 - Danity Kane feat. T.I. - Touch My Body (remix)
6 - Omarion feat. Papoose - Entourage (remix)
7 - Trey Songz - How U Like That
8 - Trey Songz - Slow
9 - Danity Kane - Right Now (produced by Timbaland
10 - Megan Rochelle feat. Joe Budden - Floating (remix)
11 - Lyfe Jennings feat. Young Buck - Slow Down
12 - Danity Kane - Sleep On It (produced by Scott Storch)
13 - Janet Jackson feat. Nelly - Call On Me (remix) (produced by Lil' Jon)
14 - Monica feat. Twista - Hell No
15 - Monica - Why Her (produced by Jermaine Dupri)
16 - Deep - Standing On The Edge
17 - Trey Songz - Part Of Me
18 - Young Buck feat. Jazze Pha - If You Want Some (produced by Jazze Pha)
19 - Rico Love - What You Sayin'
20 - Cassie feat. Flawless - I Swear
21 - Robin Thicke feat. AC - Cocaine (remix)
22 - Christina Aguilera feat. Termanalogy - Way Back (remix) (produced by DJ Premier)
How To DOWNLOAD