DJ L - Satisfaction Guaranteed #7
Submitted by mfizzel on Fri, 08/18/2006 - 5:27am.
R&B | DJ L | Mixtape Torrents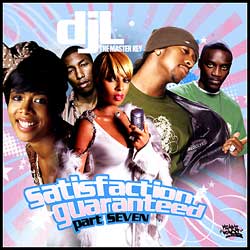 The most consistent if not the hardest work,
DJ L keeps bringing the hottest R&B tracks in
the game, and the people keep listening. One
of the more popular R&B series around,
Satisfaction Guaranteed turns seven with this
all-new release.
Banging the hottest club tracks, slow jams,
remixes, R&B cameos and radio hits, this
mixtape spans 30 R&B (with a splash of reggae)
tracks, including new music from Cassie, Akon
& Snoop Dogg, Omarion & Joe Budden, Kelis,
Keyshia Cole & Dre, Pharrell, Mya, Razah, Cheri
Dennis, Chris Brown, Justin Timberlake &
Timabaland, Nicole Wray and more.

1 - Mary J. Blige feat. Jay-Z, T.I.- Turn Of The Lights (official version)
2 - Omarion feat. Joe Budden, Gravy- Entourage (remix)
3 - U-Ness- Ol' Skool Joint
4 - Kelis- 80's Joint
5 - Justin Timberlake feat. Daytona- Sexy Back (remix) (produced by Timbaland)
6 - Pharell feat. Jay-Z- Young Girl (produced by The Neptunes)
7 - Sulleen feat. Joe Budden- What'cha Tryin' To Do
8 - Akon feat. Snoop Dogg- I Wanna Fuck You
9 - P.Diddy feat. Nicole Wray- Come To Me
10 - Dre feat. Keyshia Cole- Somebody
11 - Cassie- Long Way To Go
12 - Cassie- Not With You
13 - Risque- Crazy
14 - Chris Brown- One More Gin'
15 - Trey Songz feat. Akon- I'm A Hustla
16 - Danity Kane feat. P.Diddy, Yung Joc- Show Stopper
17 - Razah feat. Juvenile, Bun B.- We Ridin'
18 - Akon feat. Styles P.- Blown Away
19 - Henny feat. Harlem's Cash- G'd Up
20 - Cassie feat. AC- Me N' U (remix)
21 - Mya- Ayo
22 - Penelope Jones feat. Mya- No Matter What They Say
23 - Cheri Dennis- Showdown
24 - Melissa Jimenez- He Ain't The Only One
25 - Komika feat. Uncle Murder- Sky's The Limit
26 - Deemi- Soundtrack Of My Life
27 - Keri Hilson feat. Snoop Dogg, Stat Quo- Happy Juice (produced by Timbaland)
28 - Tony Matterhorn- Dutty Wine
29 - Noreaga feat. Don Omar, P. Diddy- Bailar Conmigo
How To DOWNLOAD