DJ L - Belly Of The South Pt. 3
Submitted by mfizzel on Fri, 09/15/2006 - 6:48am.
Dirty South | DJ L | Mixtape Torrents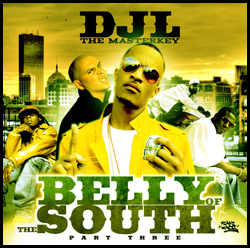 From the belly of the beast comes the 3rd
edition of DJ L's Southern series Belly of the
South, featuring a compilation of the roughest
tracks burning up the Southern airwaves and
clubs.
With a fresh perspective on the South, The
Master Key and certified NYC mixtape mover
takes his hustle Down South.
This mixtape features all-new freestyles and
tracks from Young Dro, Smitty, Jody Breeze,
Famlay & Pharrell, Trick Daddy, Lil' Flip, Yung
Joc & Papoose, Chingo Bling, Mr. Fabo, Stat
Quo, Pastor Troy, Young Buck, Pitbull, Lil' Jon
and more.

1 - Fat Joe feat. Lil' Wayne - Make It Rain (produced by Scott Storch)
2 - 8Ball & MJG feat. Project Pat - Relax And Take Notes
3 - Smitty - Heat Down Low
4 - Hot Sauce - Datz Wut It Iz
5 - Jody Breeze feat. Lil' Wayne - Rookie Of The Year (remix)
6 - Chingo Bling feat. Mr. Fabo (Of D4L) - Do The Lasso
7 - Young Dro - Rubberband Banks
8 - Dolla - I'm Feelin' Myself
9 - Chingy feat. Jermaine Dupri - Dem Jeans
10 - Potzee feat. Murphy Lee, Chingy - Dat Gurl
11 - Trick Daddy feat. Chamillionaire - Bet That
12 - Fam Lay feat. Pharell - Hit Me On My Beeper (produced by The Neptunes)
13 - Lil' Boosie feat. Yung Joc - Zoom
14 - Yung Joc feat. Chamillionaire, Papoose - Pop The Trunk
15 - Brisco - Block Vacant
16 - Lil' Flip - I'm A Balla
17 - Danity Kane feat. P. Diddy, Yung Joc - Show Stopper
18 - Beyonce feat. Jay-Z - Upgrade You (produced by Swizz Beatz)
19 - Justin Timberlake feat. Three-6-Mafia, Timbaland - Chop Me Up (produced by Timbaland)
20 - Justin Timberlake feat. T.I. - My Love
21 - Unk - Walk It Out
22 - Stat Quo - By My Side
23 - Young Cash - Believe It
24 - Young Buck feat. Jazze Pha - If You Want Some (produced by Jazze Pha)
25 - Rico Love feat. Usher - What You Sayin'
26 - Bone, Thugs 'N Harmony - Intro
27 - Jibbs - Chain Hang Low
28 - Lil' Wayne feat. T.I. - Cannon (remix)
29 - Pastor Troy - Murda Man 2
30 - Young Swift - Jewlz Drippin'
31 - E-40 feat. Juelz Santana, Snoop Dogg - U & Dat (remix) (produced by Lil' Jon)
32 - Pitbull feat. Lil' Jon, Ying Yang Twins - Bojangles (remix) (produced by Lil' Jon)
How To DOWNLOAD