DJ Mello - The Game: Hurricane Game Pt. 2
Submitted by mfizzel on Sat, 08/05/2006 - 1:17pm.
West Coast | DJ Mello | Mixtape Torrents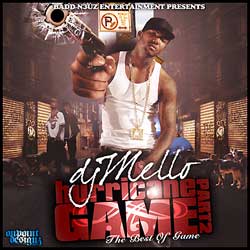 Always the bearer of Badd N3uz, DJ Mello is back with the sequel to his monster mixtape
from The Game titled Hurricane Game.
Profiling the West Coast 'Chuck Taylor,' this mixtape brings you all the recent tracks
from The Game and his crew. With Black Wall Street's most recent mixtape recently dropping,
this is the perfect supplement to that batch of tunes.
This mixtape features recent music from The Game, including joints with E-40, Dr. Dre, WC,
Eazy E, Ya Boy, Juice and more.

1 - The Game - One Blood
2 - The Game feat. Juice & Ya Boy - Be Easy (Dissin' G-Unit)
3 - The Game - Hard Liquor (produced by Dr. Dre)
4 - The Game - The Face Of La
5 - Dre feat. The Game, Pusha T, Fat Joe, Rick Ross - Chevy Ridin High Rmx
6 - Chamillionaire feat. The Game - Ridin Dirty West Coast remix
7 - The Game - Never Snitch
8 - The Game feat. E 40 - Tell Me When To Go
9 - The Game feat. Techniec - G-Unit Crips
10 - The Game - 240 Bars aka. Spider Joke
11 - The Game - 360 Bars
12 - The Game - 120 Bars
13 - The Game - Never Be Friends
14 - The Game feat. Sheek Louch - Street Music
15 - The Game feat. Techniec, E-40, Paul Wall, WC, Chingy, Ice Cube, Crooked I & Lil Rob - Low Rider
16 - The Game feat. Dr Dre - Here We Go
17 - The Game feat. Eazy E - Still Cruisin'
18 - The Game - 200 Bars & Runnin'
How To DOWNLOAD