DJ Ill Will , DJ Rockstar & Hot Dollar - The Crackhead Mixtape Vol 2 (Hosted By DJ Felli Fel)
Submitted by mfizzel on Thu, 10/16/2008 - 10:16am.
West Coast | DJ Ill Will | Mixtape Torrents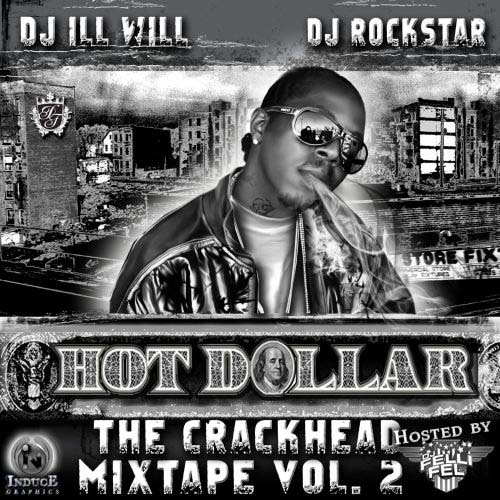 Gearing up for the release of his Island Def Jam/So So Def debut Album "My
Dreams..A Day in the Life" - Compton, California & Hattisburg, Mississippi
native Hot Dollar decided to team up with his DJ - DJ Ill Will, Los Angeles
Radio Personality/DJ - DJ Felli Fel, & DJ Rockstar to release the follow up
mixtape to his street classic "Crackhead Mixtape" that garnered him his record
deal back in early 2007.
This project includes features from Sean Kingston & Jay Rock as well as
production from JR Rotem, DJ Khalil & The Bizness to name a few. His current
single "Switch Ya Swag Up" is lighting up regional radio spins as of last week!!
1. Intro
2. Southwest King
3. Switch Ya Swag Up
4. Money Talk 4 Me
5. Thinking Of You
6. On The Block Ft. Sean Kingston Prod By Jr Rotem
7. He Hot
8. All I Need
9. On Everythang Prod By Tha Bizness
10. Upside Down
11. Long Time Coming
12. Fly Away
13. We Can Get It On
14. Night Life Prod By Dj Khalil
15. New Pussy 3.0
16. All Around The World
17. Ball Hard Feat Jay Rock
18. Shit Stain (No Bodies)
How To DOWNLOAD