DJ Smallz - Southern Smoke #29: Vote DJ Smallz
Submitted by mfizzel on Sat, 09/30/2006 - 11:03am.
Dirty South | DJ Smallz | Mixtape Torrents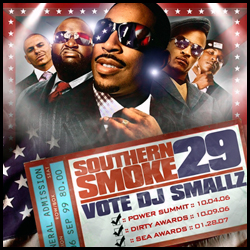 DJ Smallz puts his mixtape campaign in major motion with the latest edition
of Southern Smoke, trying to garner any last votes he can for the upcoming
Mix Show Power Summit and Dirty Awards (SEA on the way).
Pledge your allegiance to the Southern Smoke flag by voting for Smallz, but
more importantly, this mixtape is significant because it means #30 is next
up. Expect something big for that cornerstone mixtape.
Featuring Southern music from Boyz N Da Hood, Lil' Wayne, Juvenile, Jody
Breeze, Rick Ross, Trae, Yung Joc, Plies, Trick Daddy & Chamillionaire +
a gang of young gunners.

1 - DJ Smallz – Vote Or Die Intro
2 - T.I. feat. Young Dro & Slim Thug – Music For The Gangstas (remix)
3 - Block feat. Boyz-N-Da-Hood, DG Yola, Yung Joc, Alfamega & Trae
4 - Ludacris feat. Young Jeezy – Grew Up A Screw Up
5 - Lil' Wayne feat. Juelz Santana & Red Cafe – My Face
6 - Juvenile feat. D-Boyz & Red Eye – Trigga Play
7 - Boyz-N-Da-Hood & Baby The Birdman – We Fly High
8 - Jibbs feat. Yung Joc & Lil' Wayne – Chain Hang Low (remix)
9 - Rick Ross feat. NORE & Nina Sky – Flippin' That (remix)
10 - T.I. feat. Lil' Wayne & Juelz Santana – Rubber Burnin'
11 - Rick Ross – Grippin' Grain
12 - Jody Breeze feat. Lil' Wayne – Dippin' From The Cops
13 - Big Zac (Sho 'Nuff) feat. Slim Thug – Skittles
14 - Hardhead Jacob (Drum Squad) – Trap All Day
15 - J.R. (Moodswing) – Cook It In The Kitchen
16 - Streetz feat. Nitti – Waffle House
17 - Boyz-N-Da-Hood's Newest Member Unveiled
18 - Gorilla Zoe (of Boyz-N-Da-Hood) – Hood Nigga
19 - Plies (Slip-N-Slide) feat. Nitti – Got 'Em Hatin
20 - YoungBloodz feat. Khujo Goodie – Chevy Paint
21 - Trick Daddy feat. Chamillionaire – Bet That
22 - Trina – Chicken Noodle Soup (remix)
23 - Pitbull feat. Mr. Collipark – Ay Chico
24 - Ying Yang Twins – First Booty On Duty
25 - YoungBloodz feat. Busta Rhymes & Jacki-O – Ass
26 - Ludacris – Girls Gone Wild (produced by The Neptunes)
27 - Ying Yang Twins feat. Wyclef Jean – Dangerous
28 - Suave Smooth feat. 8Ball & MJG – Make It Happen
29 - Acafool feat. Tampa Tony & Tom G – Hatablockaz (remix)
How To DOWNLOAD