DJ Smallz & Block - Welcome To My Block #2: Block Boyz
Submitted by mfizzel on Mon, 10/02/2006 - 2:21pm.
Dirty South | DJ Smallz | Mixtape Torrents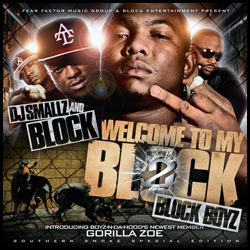 DJ Smallz is back with Russell "Block" Spencer, the CEO of Block Enterprises,
the management group responsible for spring-boarding the career of Young Jeezy
and his Boyz N Da Hood crew.
More than a year after the ink dried on the multi-million dollar distribution
deal between Block Ent. and Diddy's Bad Boy Records, Block is back to introduce
the newest member of the Jeezy-less Boyz N Da Hood: Gorilla Zoe.
Back with the sequel to Welcome To My Block, Smallz and the Southern Smoke
nation bring you all-new material from the group + Block's other artists,
including Yung Joc, Big Gee, Jody Breeze, Big Duke and Zoe.

1 - Welcome 2 My Block - Block Boyz
2 - Public Service Announcement - Block
3 - Fukkk U - Block feat. T.I.
4 - Boyz-N-Da-Hood's New Member - Block
5 - Atlanta, Georgia - Gorilla Zoe
6 - 1100 - Gorilla Zoe
7 - Operation Blockdown - Gorilla Zoe
8 - Party - Big Gee
9 - Hood Nigga - Gorilla Zoe
10 - G'd Up - Boyz-N-Da-Hood
11 - Fly High - Gorilla Zoe
12 - Ooh - Southern Girl feat. Yung Joc
13 - So Fly - Gorilla Zoe
14 - Gorilla Talk - Gorilla Zoe
15 - 1 Sluggg (Dissin' Game) - Gorilla Zoe
16 - Z.O.E. - Gorilla Zoe
17 - Game O.V. - Gorilla Zoe
18 - Betcha Can't - Gorilla Zoe
19 - A.A.A. - Gorilla Zoe
20 - Do It - Gorilla Zoe
21 - Suga / Kool-Aid - Gorilla Zoe
22 - Da Lick - Da Kona Boyz
23 - Lotto - J.C. feat. Yung Joc
24 - Can't Believe - Gorilla Zoe
25 - Grippin' Grain - Rick Ross
How To DOWNLOAD