DJ Smallz - Jody Breeze: The Game Is A Breeze
Submitted by mfizzel on Sun, 02/12/2006 - 9:18pm.
Mixtape Directory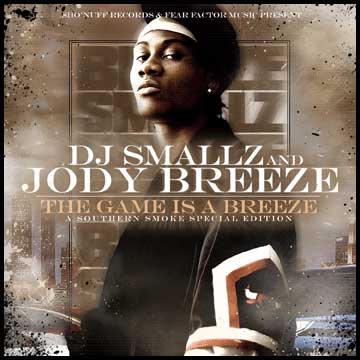 DJ Smallz brings you the second-biggest name coming out of the old
Boyz N Da Hood group, Jody Breeze. Easily one of the most talked-
about young artists in the South drops this official Southern Smoke mix-
tape banger with the help of some pretty well-known friends, including
Slim Thug, Lil' Wayne, Bun B, Jazze Pha, Juvenile, Lil' Jon and 8Ball...

1 - DJ Smallz & Jody Breeze Intro
2 - Back To Business feat. Lil' Wayne
3 - Hood Survivors feat. Boyz-N-Da-Hood
4 - No Problem feat. Big Duke & Big Gee
5 - Check The Jody Breeze Resume
6 - Stackin' Paper feat. Slim Thug
7 - AKs & Chevrolets feat. Trick Daddy
8 - Southern Smokin' With DJ Smallz
9 - Where He At feat. Wacko of UTP
10 - Fast Forward feat. Freeway
11 - The Young Gunna Speaks
12 - Who Dat feat. Juvenile
13 - Take It Outside feat. Lil' Jon
14 - Ballin' My Life Away feat. 8Ball
15 - I Can't Help It feat. Jazze Pha
16 - Pussy Pop feat. Too Short
17 - White Tees feat. Mannie Fresh
18 - Just Like I Said I Would feat. Bun B
19 - DJ Smallz & Jody Breeze Outro
How To DOWNLOAD