DJ Smallz & J.D. - Southern Smoke Instrumentals 9
Submitted by method187 on Wed, 10/04/2006 - 5:52am.
Instrumentals | DJ Smallz | Mixtape Torrents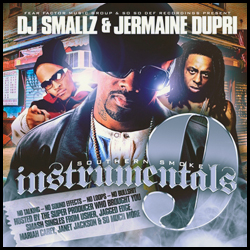 Joined by the So So Def hit-maker
extraordinaire Jermaine Dupri, DJ Smallz and
his Southern Smoke Instrumentals series reach
Part 9 in the longest-running instrumentals
mixtape series in the game. NO TALKING, NO
SOUND EFFECTS, NO LOOPS.
With damn near any dope Southern
instrumental on his mixtape (if you've heard it,
it's on here), Smallz gets one of hip-hop's
baddest, hit-makers to put his stamp on the
Southern Smoke instrumental series.
Featuring 35+ Southern instrumentals from
tracks by Yung Joc, Young Jeezy, Lil' Jon, D4L,
Young Buck, Trick Daddy, Rick Ross, Lil' Wayne
& Birdman, Trae, Pimp C & Mike Jones and
more.

1 - DJ Smallz & Jermaine Dupri – Intro
2 - Yung Joc feat. Rick Ross & Slim Thug – It's Goin' Down (remix)
3 - D4L feat. Lil' Wayne, Rick Ross & Young Joc – I'm Da Man (remix)
4 - Lil' Jon, Lil' Scrappy, Lil' Wyte & Lil' Flip – Big Problems
5 - Project Pat feat. Young Jeezy & Lyfe Jennings – Tell
6 - T.I. feat. B.G. & Young Jeezy – I'm Straight
7 - T.I. feat. Stat Quo – Top Back (remix)
8 - Yola Da Great – I Ain't Gon Let Up
9 - Young Dro – Rubberband Banks
10 - Young Jeezy feat. U.S.D.A. – Ya Dig
11 - Young Buck feat. 50 Cent – By Myself
12 - Young Buck feat. Jazze Pha – I Know U Want Me
13 - Trick Daddy, Rick Ross & Pitbull – Born & Raised
14 - Trick Daddy feat. Chamillionaire – Bet That
15 - Trick Daddy feat. Plies – Duck Down
16 - Rick Ross feat. Dre – Blow
17 - Rick Ross – Push It
18 - Jermaine Dupri – Studio Break
19 - David Banner feat. Yola – Get Money
20 - Trae feat. Yung Joc – In The Hood
21 - Trae feat. Paul Wall & Three 6 Mafia – Cadillac
22 - Lil' Wayne & Birdman – Stuntin' Like My Daddy
23 - Cadillac Don & J Money – Peanut Butter & Jelly
24 - Pimp C feat. Mike Jones & Bun B – Pourin' Up
25 - Juvenile feat. Mike Jones & Paul Wall – Leanin'
26 - 8Ball & MJG feat. Diddy – Ridin' High
27 - Lil' Boosie feat. Yung Joc – Zoom
28 - Field Mob – Baby Bend Over
29 - Young Joc – I Know U See It
30 - Ludacris feat. Pharrell – Money Maker
31 - Lil' Scrappy feat. Young Buck – Money In The Bank
32 - Lil' Jon feat. Pitbull & Smitty – Snap Yo Fingers (remix)
33 - Pitbull feat. Lil' Jon & Ying Yang Twins – Bojangles (remix)
34 - E-40 feat. Snoop Dogg, T-Pain & Lil' Jon – U & Dat (remix)
35 - Cherish feat. Yung Joc & Fabo (of D4L) – Do It To It (remix)
36 - Cassie feat. Yung Joc & Pitbull – Me & You (remix)
37 - Letoya feat. Slim Thug & Mike Jones – Torn (remix)
38 - T.I. feat. Jaime Foxx – Live In The Sky
39 - Jermaine Dupri – A Def Outro
How To DOWNLOAD