New Young Buck & Obie Trice Tapes Right Around The Corner
Submitted by mfizzel on Sun, 08/06/2006 - 2:41pm.
Mixtape News
DJ Whoo Kid is dropping 2 new tapes, Young Buck - Chronic 2006 & Obie Trice - Bar Shots. The Buck tape is hosted by Jamie Foxx, Obie's is hosted by none other than Shady Records label head Eminem.
Neither tape currently has a release date however they are available for preorder @ Mixunit, we imagine we'll see 'em drop in the next few weeks. Scroll down for the cover art and both mixtape track lists.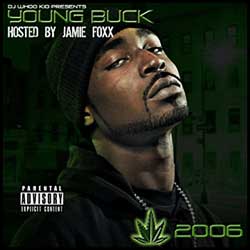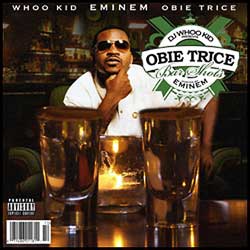 Young Buck - Chronic 2006 Track List:
1 - Jamie Foxx Chronic 2006 Intro
2 - Young Buck - Doin' My Thing
3 - Young Buck - Thug Til Your Death Day
4 - Young Buck - Ride
5 - Jamie Foxx Skit
6 - Young Buck feat. 50 Cent -Do It Myself
7 - Young Buck feat. Tony Yayo -Dont Make Me Hurt You !
8 - Young Buck - Return Of The Project Nigga
9 - Vibe Awards Skit
10 - Young Buck - Niggas A Change On You
11 - Young Buck - Gettin High
12 - Young Buck - Married To My Gun
13 - Young Buck feat. Hi-C - Get That Brick
14 - Vibe Awards Skit #2
15 - Young Buck feat. Hi-C, Lil Murda -Stomp That Snitch
16 - Jamie Fox Skit
17 - Young Buck feat. Mobb Deep - Project Niggas
18 - Vibe Awards Skit #3
19 - Young Buck - On The Corner
20 - Young Buck feat. Tony Yayo, Lil' Murder - The Projects
21 - Young Buck feat. M.O.P. - Guns Go Bang
22 - Jamie Fox & Lil' Scrappy Skit
23 - Young Buck feat. Lil' Scrappy - Money In The Bank
24 - Young Buck feat. DJ Drama - Freak
25 - Young Buck Live In Sumfest 2006 Jamaica (Weed Break) [In Front Of 28,000 People With The Whole Marley Family And Bounty Killer (Peep The Live Guns Shots)]
Obie Trice - Bar Shots Track List:
1 - Eminem - Fuck Obie Skit
2 - Obie Trice feat. Kuniva (of D-12), Bobby Creekwater , Cashis, Stat Quo - Cry Now (remix)
3 - Obie Trice Big Herc, Trick Trick -There They Go
4 - Obie Trice - What You Want From Me [produced by Mike D & Juggnaught]
5 - Eminem - Public Service Announcement
6 - Obie Trice - Don't Be Switchin It Up
7 - Obie Trice feat. 50 Cent - Everywhere I Go
8 - Obie Trice - Spazzin [produced by Reef]
9 - These Faggot Ass Niggas Skit
10 - Obie Trice - You Could Be Slain [produced by Buckwild]
11 - Arab Unit Skit
12 - Obie Trice - They Wanna Kill Me
13 - Eminem & Whoo Kid Skit
14 - Obie Trice - Divine Intervention [produced by Alchemist]
15 - Obie Trice - My Life
16 - Arab Unit Skit #2
17 - Obie Trice - Look In Your Eyes
18 - Haters Skit
19 - Obie Trice - Haters
20 - Obie Trice - Jamaican Girl
21 - Obie Trice feat. Ray Ray -Nice To Meet You
22 - Eminem - Sada-Pop Outro
How To DOWNLOAD