Dub Floyd Presents Ludacris , Nas And Jay-Z - I Do It For Hip Hop
Submitted by mfizzel on Sat, 02/07/2009 - 11:57am.
Blends | Dub Floyd | Mixtape Torrents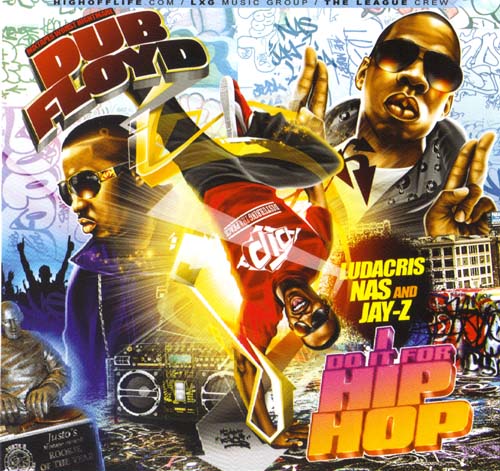 2008 Justo Rookie Of The year award winner Dub Floyd presents "I Do It For Hip
Hop". His first solo release of 2009 features Def Jam's MVP's Ludacris, Jay-Z,
and Nas. The idea arose from the critically acclaimed posse cut "I Do It For Hip
Hop" which features the three Hip Hop heavyweights. This mixcd is what you would
expect from Mixtape's Worst Nightmare with Screamixxes and Exclusive
Screamixxes. If that's not enough, "I Do It For Hip Hop" also features original
production by Grand Larceny, Cooking Soul, and Djay Cas as well as remixes by
Wally Sparks, Green Lantern, and Travis Barker. Dub Floyd aka Mixtape's Worst
Nightmare along with three of Hip Hop's elite are definitely showing the world
what they do this for!
01. I Do It For Hip Hop (Intro)
02. Ludacris, Nas & Jay-Z - Trinity (Exclusive Screamixx) (Prod. by Djay Cas)
03. Luda Talks "Working With Jay-Z & Nas"
04. Ludacris, Nas & Jay-Z - I Do It For Hip-Hop (Prod. by Wyldfyer)
05. Ludacris - Press The Start Button
06. Jay-Z ft. Santogold - Brooklyn (Go Hard) (Green Lantern Soundbwoy Mix)
07. Jay-Z - History
08. Jay-Z & Ludacris ft. Fat Man Scoop - Warm It Up 09' (Exclusive Screamixx)
09. Jay-Z ft. Pharrell - Customer Service (Exclusive Screamixx)
10. Nas - Something Foul
11. Nas - Fear Of Mandigo (Prod. by Green Lantern)
12. Nas & Ludacris ft. Talib Kweli - Dirty NYC (Exclusive Screamixx)
13. Nas & Jay-Z - The Formula For Hip Hop (Exclusive Screamixx)
14. Nas ft. Young Jeezy - My President Is Black
15. DJ Premier Talks "His Top 20 Emcees"
16. Ludacris - MVP (Prod. by DJ Premier)
17. Ludacris - It's A Man's World (Wally Sparks Mix) (Prod. by J. Dilla)
18. Ludacris ft. T. Pain - One More Drink (Screamixx)
19. Ludacris ft. Phene & Floyd Mayweather - Undisputed (Phenemix) (Prod. by Don
Cannon)
20. Jay-Z Talks " Challenging Himself & Going Hard"
21. Jay-Z ft. DJ Khaled, Kanye West & T. Pain - Go Hard (Remix)
22. Jay-Z - Jockin' Jay-Z (Travis Barker Remix)
23. Jay-Z ft. Nas & Ludacris - Success (Exclusive Screamixx)
24. Nas, Jay-Z & Ludacris - Bleu La' Goons (Exclusive Screamixx) (Prod. by
Cookin' Soul)
25. Nas & Ludacris ft. Doug E. Fresh - Virgo (Screamixx) (Prod. by Grand
Larceny)
26. Nas - Esco Let's Go
27. Nas ft. Jadakiss & Ludacris - Made You Look (Remix)
28. Ludacris ft. Lil Wayne - Last Of A Dying Breed (Prod. by Wyldfyer)
29. Ludacris & Nas ft. Mary J. Blige - Runnin' Away (Exclusive Screamixx) (Prod.
by Kev Brown)
30. Ludacris ft. Spike Lee - Do The Right Thing (Prod. by 9th Wonder)
31. Nas Talks "Taking Chances"
32. Nas ft. Kevin Rudolf - NYC
33. Nas ft. Kanye West & KRS-1 - Classic (Screamixx)
How To DOWNLOAD