Funkmaster Flex - Kiss Kiss Bang Bang R&B Hits (Hosted By Ne-Yo)
Submitted by mfizzel on Mon, 06/19/2006 - 2:02pm.
R&B | Funkmaster Flex | Mixtape Torrents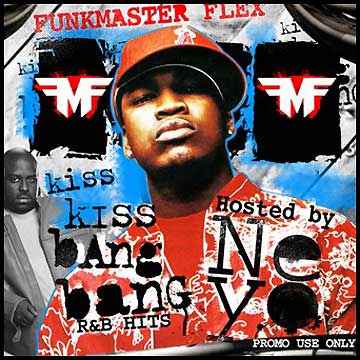 Funkmaster Flex doesn't do mixtapes any more, so we're not exactly
sure what spurred this one, but the R&B heads won't mind one bit. With
R&B swooner Ne-Yo in the building to represent for FMF and share his
thoughts on the game, this mixtape breaks all-new R&B music from the
marquee players – Jamie Foxx, Jagged Edge, Pharrell, Will.I.Am, Nina
Sky & Rick Ross, Chris Brown, Kanye, Cassie, Megan Rochelle/Jay-Z.

1 - Funk Flex & Ne-Yo Intro
2 - Ne-Yo - Sexy Love
3 - Jamie Foxx feat. Twista - DJ Play A Love Song
4 - Funk Flex & Ne-Yo Interlude 1
5 - Jagged Edge - So High
6 - Nina Sky feat. Rick Ross - Flippin That (Half-A-Brick)
7 - Funk Flex & Ne-Yo Interlude 2
8 - Chris Brown - Ain't No Way
9 - Ne-Yo - Sign Me Up
10 - Pharrell feat. Kanye West - Number One
11 - Jagged Edge - Stunna
12 - Funk Flex & Ne-Yo Interlude 3
13 - Ryan Leslie - I Love The Way U Move Girl
14 - Ne-Yo - It Just Ain't Right
15 - Ray-J - What I Need
16 - Jamie Foxx feat. Snoop Dogg & Game - With You
17 - Mary J Blige - Enough Cryin
18 - Cassie - Me & U
19 - Megan Rochelle feat. Jay-Z - The One
20 - LL Cool J feat. Ginuwine - Ooh Wee
21 - Christina Milian - Just A Little Bit
22 - Mary J Blige feat. Will.I.Am - About You
23 - Styles P - Favorite One
24 - Funk Flex & Ne-Yo Interlude 4
25 - Kenny Burke - Rising To The Top
26 - Funk Flex & Ne-Yo Outro
27 - Jamie Foxx - Do What I Do
How To DOWNLOAD