DJ Envy - Down & Dirty R&B 7
Submitted by mfizzel on Wed, 03/01/2006 - 1:36pm.
Mixtape Directory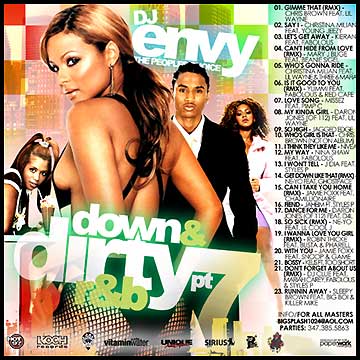 DJ Envy brings you the latest installment in his crunk R&B mixtape
series Down & Dirty R&B featuring the hottest Southern R&B collabs.
This mixtape features crunk&b from Jeezy & Christina Milian, Chris
Brown & Lil' Wayne, Daron Jones, Missez & Pimp C, Jagged Edge,
Jamie Foxx & Chamillionaire, Nivea, Robin Thicke/Pharrell, Big Boi.

1 - Gimme That (remix) - Chris Brown feat. Lil' Wayne
2 - Say I - Christina Milian feat. Young Jeezy & Juelz Santana
3 - Let's Get Away - Kieran feat. Fabolous
4 - Can't Hide From Love (remix) - Mary J Blige feat. Beanie Sigel
5 - Who's Gonna Ride - Christina Milian feat. Lil' Wayne & Three 6 Mafia
6 - Is It Good To You (remix) - Yummi feat. Fabolous & Red Cafe
7 - Love Song - Missez feat. Pimp C
8 - My Kinda Girl - Daron Jones (of 112) feat. Lil' Wayne
9 - So High - Jagged Edge
10 - Who's Girl Is That - Chris Brown [not on album]
11 - I Think They Like Me - Nivea
12 - My Way - Nina Shaw feat. Fabolous
13 - I Won't Tell - J Dia feat. Styles P
14 - Get Down Like That (remix) - Ne-Yo feat. Ghostface
15 - Can I Take You Home (remix) - Jamie Foxx feat. Chamillionaire
16 - Fiend - Jaheim feat. Styles P
17 - Dance For Me - Daron Jones (of 112) feat. D4L
18 - So Sick (remix) - Ne-Yo feat. LL Cool J
19 - I Wanna Love You Girl (remix) - Robin Thicke feat. Busta & Pharell
20 - With You - Jamie Foxx feat. Snoop & Game
21 - Bossy - Kelis feat. Too Short
22 - Don't Forget About Us (remix) - DJ Clue feat. Mariah Carey, Fabolous & Styles P
23 - Runnin Away - Sleepy Brown feat. Big Boi & Killer Mike
How To DOWNLOAD