Hell Rell - Top Gunna (The Ruga Edition)
Submitted by hardb0dy on Tue, 07/15/2008 - 8:14pm.
East Coast | Mixtape Torrents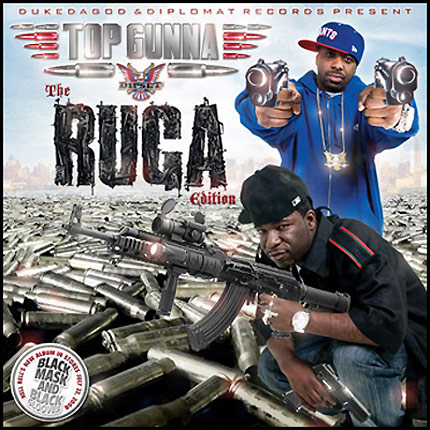 WORLD PREMIERE EXCLUSIVE - YOU KNOW WHERE YOU GOT IT FIRST!
Hell Rell and The Diplomats are back on that street sh!t and with Ruga Rell about to drop his 2nd album in almost a year, it's time for the Dipset's big gun to bring you another classic mixtape. With Hell Rell about to follow up his debut album "For The Hell Of It" with the "Black Mask and Black Gloves" followup, Ruga Rell puts himself back in the streets so the people know what's about to hit them. All-new freestyles, original remixes and new leaks from Hell Rell.
1. (00:01:01) Hell Rell - Intro
2. (00:03:30) Hell Rell - Beg In Line or Get Line Up
3. (00:02:10) Hell Rell - Top Gunna #1 Verse
4. (00:03:00) Hell Rell - Hit Em
5. (00:02:15) Hell Rell - I'm A Beast
6. (00:03:13) Hell Rell - Shine On
7. (00:03:54) Hell Rell - Get Ready
8. (00:03:32) Hell Rell - Right On Time
9. (00:03:49) Hell Rell - Foolish Freestyle
10. (00:01:25) Hell Rell - Threats
11. (00:03:56) Hell Rell - When You Think Of Me
12. (00:01:39) Hell Rell - CNN
13. (00:04:07) Hell Rell - For The Cake feat. JR Writer
14. (00:03:40) Hell Rell - By Your Side
15. (00:01:37) Hell Rell - Nigga Bleed (Freestyle)
16. (00:03:06) Hell Rell - Survival of the Fittest
17. (00:02:08) Hell Rell - Put It In The Bag
18. (00:00:26) Hell Rell - They Like
19. (00:00:56) Hell Rell - Outro
How To DOWNLOAD