Hevehitta & DJ Unexpected - 4 Assassins (Martial Arts Mixtape Vol 1)
Submitted by mfizzel on Tue, 04/27/2010 - 9:11am.
East Coast | Hevehitta | Mixtape Torrents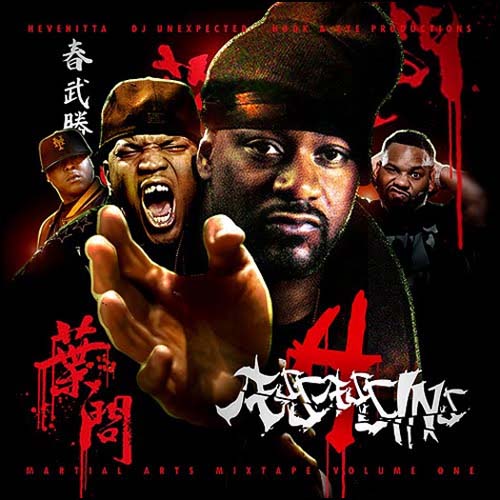 Hevehitta (Mixtapes IP Man), DJ Unexpected (The John Woo of Mixtapes) and Hook
& Eye Productions (The Deadly Duo) give you the debut mixtape from the Martial
Arts Mixtape Series. Titled 4 Assassins, you get the sword swinging rhyme style
of Ghostface Killah, Raekwon, Jadakiss and Styles P mixed together with the fast
pace action of Kung Fu movies. Upcoming producers, Hook & Eye Productions, give
their hand on the production tip, and DJ Unexpected also lays down some original
production and exclusive remixes only for this mixtape. Are you ready to
experience this mixtape/Kung Fu audio presentation?
01 Dj Unexpected - Death Chamber Intro
02 Jadakiss Feat. Styles P, Raekwon & Ghostface Killah - 4 Assasins
03 Raekwon Feat. Method Man & Ghostface Killah - Miranda
04 Raekwon - Flawless Crowns
05 Jadakiss - All For The Love
06 Ghostface Killah Feat. Trife Da God, Sheek Louch & Bully - Youngstown Heist
07 Consequence Feat. Styles P - Don't Stand So Close To Me
08 Hevehitta & Dj Unexpected - Of Cooks & Kung Fu Interlude
09 Notorious B.I.G. Feat. Ghostface Killah & Raekwon - King Of Chefs
10 The Lox - Slow Down
11 Raekwon Feat. Ghostface Killah - Tha Game
12 Raekwon Feat. Ghostface Killah & Styles P. - Dynamite Trio
13 Hevehitta & Dj Unexpected - De-Fang The Wolves Interlude
14 Raekwon Feat. Ghostface Killah & Method Man - Criminology 2.5
15 Raekwon - Treasure Hunters
16 Jadakiss Feat. Styles P. - Shootouts
17 Raekwon - Warriors Two Part 1
18 Ghostface Killah Feat. Beanie Sigel & Styles P. - Barrel Brothers
19 Jadakiss - 4 Da Fam Freestyle
20 Styles P. - Bout My Business(Verse)
21 Jadakiss - Warriors Two Part 2
22 Ghostface Killah Feat. Superb - Ghost Deini
23 Raekwon Feat. Ghostface Killah & Method Man - 3 Evil Masters
24 Raekwon Feat. Ghostface Killah, Method Man & The Lox - The Rebellious Reign
25 The Lox - Classic Freestyle 1
26 Ghostface Killah Feat. Raekwon & Method Man - Flowers
27 The Lox - Classic Freestyle 2
28 Raekwon Feat. Ghostface Killah - Deadly Duo (Freestyle)
29 The Lox - Classic Freestyle 3
30 Ghostface Killah Feat. Raekwon - Good Times
31 Hevehitta & Dj Unexpected - The Fake Ghost Catchers Outro
How To DOWNLOAD