J. Armz - How To Be An MC #37
Submitted by mfizzel on Sat, 09/02/2006 - 6:53am.
Instrumentals | J. Armz | Mixtape Torrents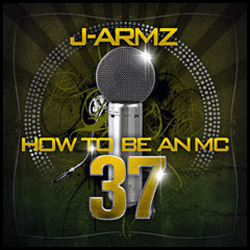 The industry expert in his field, J. Armz brings
another How To Be An MC mixtape in the series
that's always highlighting the best producers
and the newest instrumentals first. As soon as
it's the joint, you're all over it.
Whether you're a DJ or an emcee, these are
the beats that are turning rappers to home
owners. Featuring the top beats of the
moment, this mixtape contains 33 hip-hop and
Southern beats.
Featuring beats by 9th Wonder, Swizz Beats,
The Runners, Agallah, will.i.am, The Reefa
,DJ Green Lantern, Jazze Pha, Tuneheadz,
Havoc, Cannon Beats and more.

1 - Where Y'all At [produced by Salaam Remi] - Nas
2 - Reppin' Time [produced by The Runners] - Jim Jones
3 - One Blood [produced by The Reefa] - Game
4 - I Do This [produced by Speedy] - Young Jeezy
5 - We Fly High [produced by Zukhan] - Jim Jones
6 - In The Ghetto [produced by Streetrunner For Spliffington Mngmt] - DJ Kay lay & Greg Street feat. Fat Joe, Jim Jones, Shaq Diesel, Cassidy & Sheek Louch
7 - Get It Poppin [produced by Soulo] - A Mafia
8 - Back At It [produced by Knoxville For Spliffington Mngmt] - J.R. Writer
9 - Here We Come [produced by 9th Wonder) – Boot Camp Clik
10 - Do It Myself [produced by Justice League] - Young Buck
11 - I Run Shit [produced by Swizz Beats) – DMX feat. Big Stan
12 - Tell It Like It Is [produced by Omen] - Ludacris
13 - Don't Play With Them Burners [produced by Havoc] - Big Noyd Ft. Havoc
14 - How Ya Get It [produced by Cannon Beats] - Juelz Santana
15 - Ghetto [produced by Ski] - Lake & Cormega
16 - The Hardest Out [produced by Amadeus] - Papoose feat. Remy Ma & Hell Rell
17 - Hardcore [produced by Agallah] - Agallah "The Don Bishop"
18 - Nobody [produced by Devine] - J–Hood feat. Jadakiss, Styles P & Sheek Louch
19 - Addicted To Mary Jane [produced by Lil Flip] - Lil Flip
20 - I Know You Want Me [produced by Jazze Pha] - Young Buck feat. Jazze Pha
21 - Goodbye [produced by Da Gutta Family Inc.] - DMX
22 - In The Ghetto [produced by DJ Green Lantern] - Busta Rhymes Ft. Rick James
23 - The Games In Trouble [produced by Gq Beats] - Lil Kim
24 - Nobody's Safe [produced by Gq Beats) – Loon
25 - Ring The Alarm [produced by Swizz Beatz & Sean Garrett] - Beyonce'
26 - Keep Bouncin' [produced by Will I Am] - Too Short feat. Snoop Dogg & Will.I.Am
27 - Big Problems [produced by Stay Gettin] - DJ Kayslay feat. Lil Jon, Lil Scrappy & Lil Wyte
28 - Rubberband Banks [produced by Lil C) – Young Dro
29 - Born And Raised [produced by The Runners] - DJ Khaled
30 - Live From The Kitchen [produced by Gm Productions] - J.R. Writer
31 - It's Personal [produced by Tuneheadz] - DMX feat. Styles P & Jadakiss
32 - Stomp [produced by Gq Beats] - Maino feat. Lil' Kim
33 - Relax & Take Notes [produced by DJ Nasty] - 8Ball & MJG feat. Project Pat
How To DOWNLOAD