Stackhouse Recordings - Instrumental Invasion: Diplomatic Season II, Volume 7
Submitted by method187 on Wed, 09/27/2006 - 4:39pm.
Instrumentals | Mixtape Torrents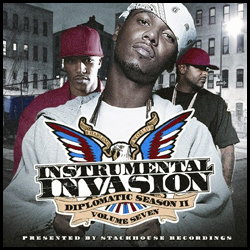 Harlem ain't the only ones – we're loving the
Dipset movement, too. Cam, Juelz, J.R., Relly,
Capo, The Byrdgang...it's a movement, get
with it get out the way. Stackhouse
Recordings hits you with another dose of the
hottest beats, this time 100% Diplomats
instrumentals.
If you're an aspiring emcee, CD dee jay,
someone who just likes to mess with the beats,
or just a Dipset fan, peep this joint below.
This mixtape features 40 new and classic beats
from the Diplomats crew, including beats you
hear tearing up mixtapes left and right.

1 - Reppin' Time (produced by The Runners) - Jim Jones
2 - We Fly High (produced by Zukhan) - Jim Jones
3 - Live From The Kitchen (produced by GM Productions) - J.R. Writer
4 - How Ya Get It (produced by Cannon Beats) - Juelz Santana
5 - Back At It (produced by Knoxville) - J.R. Writer
6 - The Hardest Out (produced by Amadeus) - Hell Rell feat Papoose & Remy Ma
7 - In The Ghetto (produced by Streetrunner) - Jim Jones feat Fat Joe
8 - Killa Season Intro - Cam'ron
9 - Goonies(Produced By Knoxville/Spliffington Management)
10 - Zoolander (produced by Dame Greese) - Jr Writer
11 - Laughin' At You - Hell Rell
12 - Put You On - J.R. Writer
13 - Ya'll Can'tLive Like This (produced by Scram Jones) - Duke Da God
14 - Riot Pump (produced by Justice League) - J.R. Writer
15 - We Make Change (produced by Jonathan Dugger) - Cam'ron
16 - Triple Up (produced by Headbangaz Entertainment) - Cam'ron & 40 Cal
17 - Leave You Alone (produced by Blackout Movement) - Cam'ron
18 - Worried (produced by Raw) - Duke Da God & 40 Cal
19 - Get Ya Gun (produced by Dj Big Tyme) - Cam'ron
20 - Got To Love It - Cam'ron
21 - Bright Lights - Jim Jones
22 - Prolific - Byrd Gang
23 - My Life - J.R. Writer
24 - We Gettin' Money (produced by Knoxville) - Duke Da God, J.R. Writer & 40 Cal
25 - Superstars - Byrd Gang
26 - War (produced by Nova For Spliffington Management) - Duke Da God, Cam'ron
27 - Grill 'Em - J.R. Writer
28 - Suck It Or Not (produced by Chubby Baby) - Cam'ron feat. Lil' Wayne
29 - All I Know (produced by Green Lantern) - Hell Rell feat. Akon
30 - Show You What I'm Workin' With (produced by Green Lantern) - Dem Franchize Boyz Feat. Juelz Santana
31 - Wet Wipes (produced by The Alchemist) - Cam'ron
32 - I.B.S. (produced by Heatmakerz) - Cam'ron
33 - Thanks To Me - Cam'ron feat Agallah & Jay Bezel
34 - Weekend Love - Cam'ron
35 - Love My Life (produced by Jonathan Dugger) - Cam'ron feat. Nicole Wray
36 - Gangsta Shit (produced by Develop) - Juelz Santana
37 - Clorkwork - Juelz Santana
38 - Frustrated (produced by Thump City Prod.) - Duke Da God, Jim Jones, 40 Cal & Max B
39 - Meena & Remo Freestyle
How To DOWNLOAD