J-Love: In Memory of Big Pun
Submitted by mfizzel on Mon, 12/05/2005 - 11:19am.
Mixtape Directory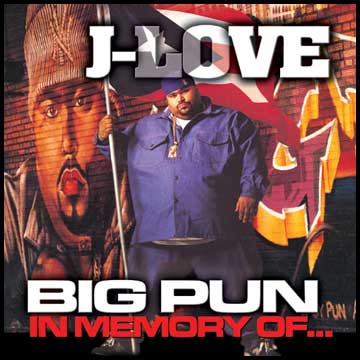 Big Pun blew the scene with his 2x platinum debut Capital Punishment
before unexpectedly passing 2 years later. J-Love brings you the Best
of Big Pun blazin' the rare & unreleased tracks you never got to hear,
with all the underground classics by Pun w/ Fat Joe & the Terror Squad.

1 - The Rain And The Sun
2 - The Nicest (produced by J-Love)
3 - Brave In The Heart feat. Fat Joe, Triple Seis & Prospect
4 - Whatcha Gon Do
5 - My World
6 - You Ain't A Killer
7 - Rhyme 4 Rhyme feat. Cormega
8 - Best Behavior feat. Fat Joe
9 - Nigga Shit
10 - Tres Leches (remix) feat. Prodigy & Ispectah Deck (produced by Large Professor)
11 - Drop It Heavy feat. KRS-One & A.G.
12 - Symphony 2000 feat. Kool G Rap, KRS-One & A.G.
13 - Wishful Thinking feat. Kool G Rap, KRS-One & Truck Turner
14 - Firewater feat. Raekwon, Fat Joe & Armageddon
15 - How We Roll (original version)
16 - Mama (original verison)
17 - Clap Your Hands feat. Noreaga & Royal Flush
18 - Loco Bananas
19 - Cheat On You feat. Cuban Link
20 - Must Be The Music feat. Cuban Link
21 - 100%
22 - The Mission feat. Digital Underground
23 - Off The Books feat. Beatnuts & Cuban Link
24 - Toe To Toe feat. Cuban Link
25 - Twinz feat. Fat Joe
26 - Let 'Em Know feat. Fat Joe
27 - Fat Joe & Big Pun in '96
How To DOWNLOAD