J. Period - Best Of The Roots (Hosted By Black Thought)
Submitted by mfizzel on Sun, 08/13/2006 - 12:58pm.
East Coast | J. Period | Mixtape Torrents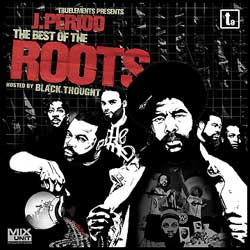 Also known as Illadelph's finest, The Roots are unmistakably one of hip-hop most
underrated acts of all-time. Not to say they haven't their fair share of shine,
because you won't hear them complaining. But their talent is that huge.
Already earning his props with vintage mixes of artists such as Nas, Kool G Rap
and recent projects with G.O.O.D. Music & CL Smooth, J. Period is commissioned
to do the official promo job for The Roots' upcoming album Game Theory.
Hosted and narrated by the incredible Black Thought, this mixtape spans more than
50 Roots classics, exclusives, freestyles and rarities, including 10+ original
remixes.

1 - Rock Star
2 - Malcolm X Interlude
3 - Come Together feat. Zion I [produced by J. Period]
4 - The Next Movement
5 - Thought Is Like Freestyle (J.Period Exclusive Freestyle)
6 - Clones
7 - Subliminal Minded
8 - Push Up Ya Lighter
9 - Push Up Ya Lighter feat. Kardinal Offishall
10 - Concerto Of A Desperado
11 - Concerto Of A Desperado feat. Rakim (J. Period remix)
12 - Rakim Interlude
13 - Been Thru The Storm feat. Stevie Wonder
14 - Superlyricism / R.I.P. Big Pun (Interlude)
15 - Superlyrical feat. Big Pun
16 - Supposed To Represent (Interlude)
17 - All In The Music
18 - Don't Feel Right
19 - Members Of The Band / Proceed Ii feat. Roy Ayers (Interlude)
20 - Essaywhuman?!!!??!
21 - Live From The Pj's feat. Ghostface & Trife
22 - PJ's feat. Big L (J. Period remix)
23 - Influences / Native Tongue Interlude
24 - P*Ssy Galore
25 - Stay Cool
26 - Stay Cool feat. Q-Tip (J. Period remix)
27 - De La Soul / Ego Trip Interlude
28 - What They Do
29 - You Got Me (Me Tienes remix)
30 - Me Tienes feat. Nas (J. Period remix)
31 - Don't Say Nuthin (J. Period remix)
32 - Nuthin (J.Period Stick Up remix)
33 - Nuthin (J.Period Shot Ya remix)
34 - Adrenaline feat. Malik B
35 - Adrenaline feat. Busta Rhymes (J. Period remix)
36 - Yes Y'all feat. Will.I.Am (J. Period remix)
37 - Beat Street / B-Boy Interlude
38 - Thought @ Work (J. Period remix)
39 - Crazy Legs / Rock Steady Crew Interlude
40 - Boom! / Wrath Of Kane (J.Period blend)
41 - Din Da Da (J.Period Volume remix)
42 - Rahzel Interlude
43 - Act Too… Love Of My Life
44 - Love Of My Life (remix) feat. Mayda Del Valle
45 - Streets Of Philly [produced by J. Period]
46 - What You Want
47 - Like Water (remix) [produced by J. Period]
48 - You Got Me feat. Jill Scott, Erykah Badu & Eve (J. Period remix)
49 - Jill Scott Interlude
50 - Break You Off feat. D'angelo [unreleased]
51 - Bonus: Murder In The First feat. Jay-Z [produced by J. Period]
How To DOWNLOAD