Lil Wayne And Friends 5
Submitted by mfizzel on Thu, 08/21/2008 - 8:52pm.
Dirty South | Mixtape Torrents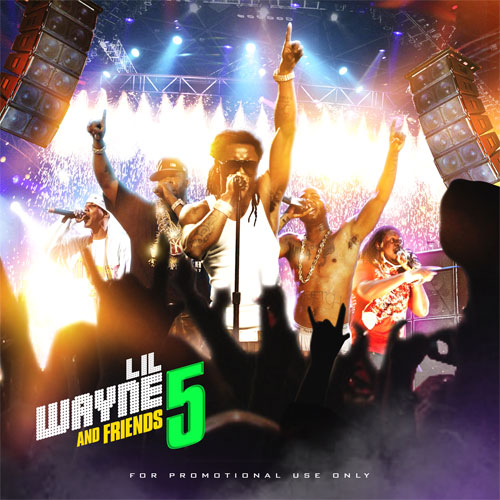 The best rapper alive is back! This time hitting the streets with his world famous
friends on the fifth installment on his hottest series "Wanye & Friends." Weezy
raps, rocks and sings on this one with The Game, Ludacris, Busta Rhymes, Cam'ron,
T-Pain as well as his Cash Money/Young Money counterparts and so many others. All
his latest collabos, remixes and freestyles are on this one!!!
.:::: WEEZY RAPS
01. A MILLIE (REMIX)
02. GOT MONEY W/ MACK MAINE [VIDEO VERSION]
03. GETTING MONEY W/ HURRICANE CHRIS & NICOLE WRAY
04. MY LIFE W/ THE GAME
05. REAL RAP
06. IT'S A PROBLEM W/ P89 & FREEWAY
07. LOST W/ GORILLA ZOE
08. STAND UP W/ LIL' SCRAPPY
09. THROW IT UP W/ BUSTA RHYMES & LUDACRIS
10. WHERE IT AT W/ GLASSES MALONE & CAM'RON
11. I'M A GET MINE W/ MANNIE FRESH & THE SHOW
12. COCONUT JUICE W/ TYGA & RICH BOY
13. HOLLA AT A PLAYA W/ JAE MILLZ
14. PIMPIN' FEAT. NU JERSEY DEVIL
.:::: WEEZY ROCKS
15. LET IT ROCK W/ KEVIN RUDOLF
16. DO WHAT WE WANT TO W/ PARTNERS-N-CRIME
.:::: WEEZY SINGS
17. WHEN I GROW UP W/ PUSSYCAT DOLLS & DIDDY
18. GIFTS W/ RAY J & THE GAME
19. CAN'T BELIEVE IT W/ T-PAIN
20. OFFICIAL GIRL W/ CASSIE
How To DOWNLOAD