DJ Beyondrest - Lost in Jamaica Part 4
Submitted by romeo on Wed, 10/25/2006 - 8:21am.
Dance Hall | DJ BeyondRest | Mixtape Torrents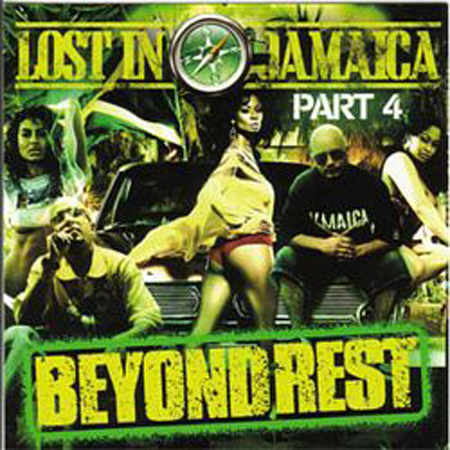 In this case of being "Lost In Jamaica" the 4th time's a charm.
DJs BeyondRest take it back to Jamaica with over 60 tracks of
non stop dancehall reggae.
In one of the best places we can think of to be lost, these DJs
bring you tunes from TOK, Vybz, Beenie, Macka D, Matterhorn,
Bling Dawg, Vegas. Kiprich, Ward 21, Cham, Dr. Evil + 11
BeyondRest reggae remixes. Lord Have Merccyyyy!!!
01 -- Tess / Phnnom -- Intro
02 -- Mr Vegas / Lexxus -- Taxi Fare
03 -- Macka Diamond -- No Fren Mate
04 -- TOK -- Hotta
05 -- Lady G -- Many Men
06 -- M Lonie -- Do You Wanna
07 -- Tess -- Someone (BeyondRest Mix)
08 -- Macka Diamond -- Ugly Man
09 -- Voice Mail -- Bring Yuh Body Come
10 -- Hallow Point -- Who Goes
11 -- Vybz Kartel -- No See Nothing
12 -- Beenie Man -- Come Again
13 -- TOK -- Gal Over Gun
14 -- Alozade -- Screw Face
15 -- Mr Vegas -- Key Hole
16 -- Mr Easy -- Bingo
17 -- Kiprich / Bad Juvenile -- Dugo Dugo Ting
18 -- Cecile -- Miss Dynamite
19 -- Shaggy / Olivia -- Wild 2 Nite Remix
20 -- Rik Rok -- Should I Tell Her
21 -- Delicious -- Short Up Clothes
22 -- Ward 21 / Wayne Marshall -- We Got The Flavor
23 -- Hawkeye -- Why They Hate Us
24 -- Rihanna -- If Its Lovin That You Want (BeyondRest Mix)
25 -- Sasha / Pitbull -- I Like The Way
26 -- Sean Paul -- Give It Up To Me
27 -- Rakin / Ken Y -- Down (BeyondRest Mix)
28 -- T-Pain -- You And Dat (BeyondRest Mix)
29 -- Ne-Yo -- Sexy Love (BeyondRest Mix)
30 -- Meeks/ Meeks -- Quicky Quicky
31 -- Wayne Marshall -- Put Your Lighter High
32 -- Delly Rank -- Push Up Yuh Hand
33 -- Vybz Kartel -- Aint It
34 -- Cecile -- Nuh Badda
35 -- Phnnom -- Talkin Reckless (BeyondRest Mix)
36 -- Foxy Brown -- Oh Yeah
37 -- Cham -- Ghetto Story
38 -- Vybz Kartel -- Gun Session
39 -- Dr Evil -- More Punanny
40 -- Idonia -- Chicken Head
41 -- Lady Saw -- Bed Noise
42 -- Vybz Kartel -- Bad Man Party 2
43 -- Wayne Marshall -- I Forgot Them
44 -- Nina Sky / Ivy Queen -- Ladies Night (BeyondRest Mix)
45 -- Sean Paul -- Temperature
46 -- Tamone -- Touch The Sky
47 -- Wayne Wonder -- Eyes On You
48 -- LOC -- Ring Ding Ding
49 -- Busy Signal -- Step Out
50 -- Tony Matterhorn -- Dutty Wine
51 -- Nelly Furtado / Timbaland -- Promiscuous (BeyondRest Mix)
52 -- Elephant Man -- This Is The Way We Roll
53 -- Sean Paul -- Breakout
54 -- Wayne Marshall -- Champagne Pop
55 -- Mr Vegas -- Gal No Let No Bwoy Inna Mi Yard
56 -- Vybz Kartel -- Call The Ambulance (BeyondRest Mix)
57 -- TOK -- Hey Ladies
58 -- Bling Dawg -- Aerobics Class
59 -- Sean Paul -- Eye Deh A Wi Knee
60 -- Wayne Marshall -- Make Them Come
61 -- Beenie Man -- Chakka Dance
62 -- Mr Vegas -- I Dont Know Why I Love You (BeyondRest Mix)
63 -- Ding Dong -- Badman Forward Badman Pull Up
64 -- Omarion -- Entourage (BeyondRest Mix)
65 -- Lost In Jaimaica Part 4 -- Outro
How To DOWNLOAD