DJ BeyondRest - All Out War
Submitted by mfizzel on Tue, 08/08/2006 - 11:07am.
Blends | DJ BeyondRest | Mixtape Torrents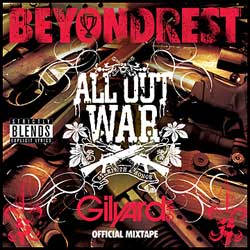 The Gilyard brand is synonymous with a standard
of quality that exceeds most expectations. With
their second such mixtape, DJs BeyondRest
fittingly align themselves with a symbol of
craftsmanship and creativity.
Featuring more than 20 of the hottest new
hip-hop/R&B blends from all the favorite tracks
of the moment + a few classic cuts and hidden
gems.
Featuring blends from Beyonce & Jay-Z, Young
Leek, Cassie, Nelly Furtado, Mobb Deep,
Christina Milian, Bubba Sparxxx, Busta Rhymes,
Pharrell, T.I., 50 Cent, Kanye West and more.

1 - Intro
2 - Deja Vu - Beyonce feat. Jay Z (BeyondRest Mix)
3 - Say I - Christina Milian b/w Jiggle It - Young Leek (BeyondRest Mix)
4 - Me & U - Cassie b/w Holla At Me - Dj Khaled (BeyondRest Mix)
5 - Were You Been - Joe feat. Papose b/w Say I - Christina Milian & Ms. New Booty - Bubba Sparks (BeyondRest Mix)
6 - Enough Crying - Mary J Blidge b/w Give It To Me - Mobb Deep feat. Young Buck & Promiscuous Girl - Nelly Furtado feat. Timberland (BeyondRest Mix)
7 - One More Chance - Yummy Bingham b/w Bojangles - Pitbull (BeyondRest Mix)
8 - Give It To Me - Mobb Deep feat. Young Buck b/w Me & U - Cassie (BeyondRest Mix)
9 - Number One - Pharrell feat. Kanye West b/w Deja Vu - Beyonce feat. Jay Z (BeyondRest Mix)
10 - I Love My Bitch - Busta Rhymes b/w Where You Been - Joe & The Life - Tru Life (BeyondRest Mix)
11 - You Cant Stop Me - Young Diva Tess
12 - Ms. New Booty - Bubba Sparks b/w I Love My Bitch - Busta Rhymes (BeyondRest Mix)
13 - I Know You Like My Style - Juganot
14 - Tell Em What They Wanna Hear feat. T.I. And Young Dro b/w Why You Wanna - T.I. & Dat Girl - Potzee (BeyondRest Mix)
15 - Kick Push - Lupe Fiasco b/w Mr. Me Too - Clipse feat. Pharrell (BeyondRest Mix)
16 - The One You Need - Megan Rochell b/w Hands Up - Lloyd Banks feat. 50 Cent (BeyondRest Mix)
17 - Sexy Love - Ne-Yo b/w Problem - Dj Khaled feat. Beanie Seagal & Jadakiss & My Niggas - Lil Kim (BeyondRest Mix)
18 - Hands Up - Lloyd Banks b/w Do My - Memphis Bleek & Put Ya Hands - Busta Rhymes (BeyondRest Mix)
19 - Work Hard Live Well - Young Diva Tess feat. Dex Dirty
20 - What You Know About That - T.I b/w Down Bottom - Drag On (BeyondRest Mix)
21 - Cake - Loydd Banks feat. 50 Cent b/w Wet Wipes - Camron feat. Lil Wayne & You Already Know - Lloyd Banks (BeyondRest Mix)
22 - Snap Your Fingers - Lil Jon b/w Its Goin Down - Young Joc (BeyondRest Mix)
23 - Its Goin Down - Young Joc b/w Gettho Story - Baby Cham & Ill Whip Your Head Boy - M.O.P (BeyondRest Mix)
24 - Gimmie That - Chris Brown feat. Lil Wayne b/w Clock Work - Juelz Santana & Put Them In Thier Place - Mobb Deep (BeyondRest Mix)
25 - Make It Hot - Dex Dirty
26 - Torn - Le Toya feat. Rick Ross b/w Grill Em - Jr Writer & Chevy Ridin High - Dre feat. Rick Ross (BeyondRest Mix)
How To DOWNLOAD