Mick Boogie - Lil Wayne & Juelz Santana: Blow
Submitted by mfizzel on Thu, 08/24/2006 - 2:18pm.
General | Mick Boogie | Mixtape Torrents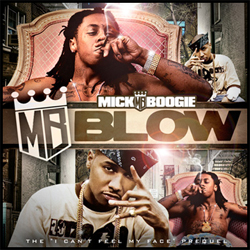 Mick Boogie hooks up this tasty with two of the hottest names in the game, Lil' Wayne
and Juelz Santana, and brings the official I Can't Feel My Face prequel mixtape.
In anticipation of one rap's biggest collaborations of the year, Cleveland's Boogie Monster
puts it down with over 25 cuts from 'Tha Carter' and 'The Bandana Man,' as well as exclusive
Mick Boogie remixes.
This mixtape features tracks, freestyles, and interludes from Lil' Wayne and Juelz Santana,
as well as cameos from Rick Ross, T.I., Young Jeezy, Outkast, Snoop Dogg, and more.

1 - Intro
2 - Juelz Speaks
3 - Juelz Santana & Lil' Wayne: Get At These Niggaz
4 - Juelz Santana & Lil' Wayne: Blow (Mick Boogie mix)
5 - Juelz Santana, Lil' Wayne, & TI: Rubber Burner
6 - Juelz Santana & Lil' Wayne: Hot Shit
7 - I Can't Feel My Face Interlude
8 - Juelz Santana: I Can't Feel My Face
9 - Juelz Santana & Lil' Wayne: Clockwork Part 2 (Mick Boogie mix)
10 - Juelz Santana & Lil' Wayne: Rewind
11 - Lil' Wayne Speaks
12 - Juelz Santana & Lil' Wayne: Get That Bread
13 - Juelz Santana & Lil' Wayne: 2 Dope Boyz (Mick Boogie mix)
14 - Juelz Santana, Lil' Wayne, Currency & Bezel: Nigga Like Me
15 - Juelz Santana: High Definition
16 - Kilos Interlude
17 - Juelz Santana & Lil' Wayne: Birds Flyin' High
18 - Juelz Santana & Lil' Wayne: Bonafide Hustla
19 - Lil' Wayne & Rick Ross: Money On My Mind remix
20 - Juelz Santana & Lil' Wayne: Rep My Hood
21 - Money Interlude
22 - Juelz Santana, Lil' Wayne & Young Jeezy: Make That Crack
23 - Juelz Santana: How?
24 - Lil' Wayne: Miami
25 - Juelz Santana: King of NY
26 - Lil' Wayne, Outkast & Snoop: Hollywood Divorce
How To DOWNLOAD