DJ Highrolla Presents: My Life Through Music Vol.1 [2Disc][Chopped & Screwed]
Submitted by HighRolla on Sun, 03/18/2007 - 7:43pm.
Chopped & Screwed | Mixtape Torrents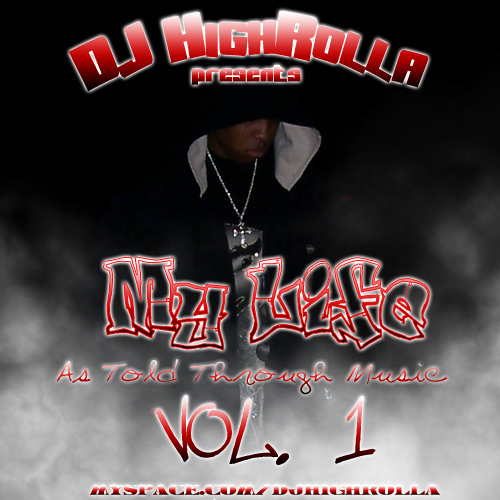 All Dj's Play Songs,but None Tell The Story Of Why They Play The Songs...ALL SONGS SLOPPED AND SCREWED BY YA BOY....THIS IS GONNA BE A REAL SIMPLE MIXTAPE I TOOK ME A DAY TO MAKE THIS BUT MY WHOLE HEART AND SOUL IS EACH SONG
They Wonder Why I Don't Smile-This Is A Mixtape That Really Close To Me and All That Makes Me... These Are Some Of The Songs That Have Gotten More Than Just One Rotation in My Deck... So I Chopped and Screwed and Mixed These Songs.. Of My Life and Made This Mixtape To Show Who The Mayne Behind The Mixtapes was Really Like and what i've gone thru and how this music has helped me through my troubles from Love,Hard times,and Fake People...I am Driven By Z-ro and His Music.. So True To Black Life.. If U Can't Relate To one Of These Songs Then Somethings Wrong Wit U....
SHIT IM ONLY 16 GIVE ME A BREAK SOMEONE!!
SONGS FROM ALL MY FAVORITE ARTISTS TELL MY STORY!!OF A DJ
1.Intro [My Prayer]
2.My Prayer Song- Z-ro [This Is Just A Sample of Some Of The Bullshit i've had to go thru..My TALK TO GOD]
3.Too Many Fuckin Problems- Trae [I Played this song in rotation for weeks all true]
4.Life Is A Bitch- Z-ro [Life Is A Bitch and This Is How I See Life As Sometimes]
5.In My Songs-Gerald Levert [This is a song i've played when u feel alone and need somebody sometimes many can relate]
6.Pride Comes Before The Fall-Guerilla Maab [This A Song That Dedicated To All The Folks That Have Turned Their Backs on Me and left stab wounds all over my back Thank You.]
7.Alone-Joe [Many People can Feel This When U Seem Alone on yo own 1 deep]
8.I Hate You Bitch- Z-ro [This Is What I'd Like To Tell Alot Of Folks That Have Fucked me over and used me in my life]
9.Who is Friend?- Z-ro [And They Wondered Why i wasn't social,and talkative...Hard To Have A Friend when so many have fucked u over..]
10.Anytime-Brian Mcknight [When U've Broke up wit someone and shit and u still have feelin fo em this the song u play.. U'll Get Over It LOL.. Many can Relate]
11.Lil Girl Gone-Devin Tha Dude [Play This Song Like I Have And This Will Reminded u that mabey yo life aint that bad when others are suffering through greater]
12.I Remember- Mary J Blige [This Dedicated to the people that have overcome alot to be at thier position now]
13.Life-Z-ro [What My Life Is Like..Im Alone But Guess What That Alright..Even though they use me as a punchin Bag Thats Alright..Even if my women don't wont me no more.Thats Alright..I Got Jesus and I Conversate wit him all night
14.What Goes Around Comes Back Around Remix-Justin Timberlake Ft Rick Ross & Pitbull [I Wish This Was True But It Isn't]
15.Im A Murderah-Z-ro Feat Pimp C [This U Feel Like Doing to These Fake people and these haters that wanna see u fail]
16.Get Up Out My Way Satan-Z-ro [Great Song.. Helped me To just ingnore shit that was going on around me]
17.Rain Before The Snow-Z-ro [Keep Yo Head Up And You'll Make It Through Adversity..]
18.Just Can't Trust A Bitch-Trae [I Can't really Trust No Bitch... I Probably Wasn't Shit To These Hoes Just A Year Ago Now im at this status i aint really tryin to hear a hoe]
19.This World is Not My Home-Guerilla Maab [Being Black Sometimes You Gotta Feel Lost in society I know i have]
20.Outta My System- Bow Wow Feat T-Pain [When U Have Love Someone U Gotta Get It Out Of Yo System Before u can move on..Easier Said Than Done But Not Immpossible Dedicated To Them Folks Going Through it]
21.So Hard To Smile- Trae & P Styles [For Me It Is Really Hard To Smile through all this]
22.Smile- Tupac Feat Scarface [BUT THROUGH ALL THE SHIT I'VE BEEN THROUGH AND SEEN U GOT TO SMILE THROUGH ALL OF IT CAUSE WHEN U THINK ABOUT IT YOUR BLESSED..SO JUST SMILE]
BE SURE TO PICK UP ALL MY OTHER MIXTAPES ON MIXFIEND.com
And DJ RICO MIXTAPES ON MIXFIEND.com
MY #1 Downloaded Mixtape has Been Valentime Day Massacre So Pick That Up..
BIG UPPS HURRICANE BWS... IM SENDIN U SOMETHIN MY NIGGA THANKS FO THE LOVE
How To DOWNLOAD