DJ Whoo Kid & DJ Mandog - POW! Radio Vol. 2 (Hosted By Young Buck)
Submitted by mfizzel on Mon, 06/12/2006 - 7:57pm.
Dirty South | DJ Whoo Kid | Mixtape Torrents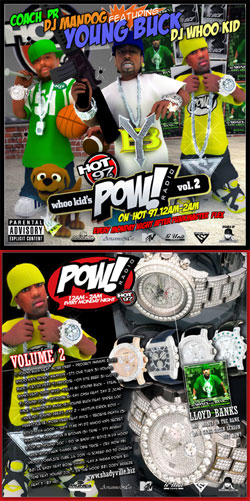 With G-Unit's own Tennessee titan Young Buck in the booth, DJ Whoo
Kid and a new face to Shadyville's mixtape game (DJ Mandog), step up
to the plate with a gang of new records in tow. Breaking in a batch of new
hip-hop joints, Whoo Kid promotes his HOT 97 radio show with his second
POW! mixtape full of heat from Yung Joc, Papoose, Snoop & Ice Cube,
Spider Loc, Rick Ross, Mobb Deep, Boyz N Da Hood, Obie Trice, Trae.

1 - Young Buck feat. Mobb Deep - Project Niggas
2 - DJ Whoo Kid's Secret Weapon - It's Our Turn
3 - Young Buck - Let Us Pray
4 - Papoose - On Site Beef
5 - Lloyd Banks feat. Tony Yayo - Killas
6 - Young Buck - Steal It
7 - Yung Joc - Patrone
8 - Young Cash feat. Jay-Z & Scarface- Bumpin' My Music
9 - Young Buck feat. Spider Loc - Ride
10 - Young Jeezy & Jay-Z - Hustlin'
11 - Rick Ross Freestyle
12 - Mobb Deep feat. Nyce - Recieve Death
13 - Boyz N Da Hood - Supa Star
14 - DJ Whoo Kid's Secret Weapon - Stop Hatin' N Bitchin'
15 - Trae - It's Aight Bitch
16 - Yung Joc - Do Ya Badd
17 - Boyz N Da Hood - Ride With Them Things
18 - Obie Trice - Cry Now
19 - Snoop Dogg, Ice Cube & Lil' Jon - U Scared Go To Church
20 - Lil' Eazy feat. Bone Thugs - Lay A Nigga Down
21 - Trae feat. Yung Joc - In The Hood
22 - Jody Breeze - 24 Hrs
How To DOWNLOAD