P-Cutta - Street Beats South Instrumentals Vol. 1
Submitted by mfizzel on Sat, 02/25/2006 - 2:49pm.
Mixtape Directory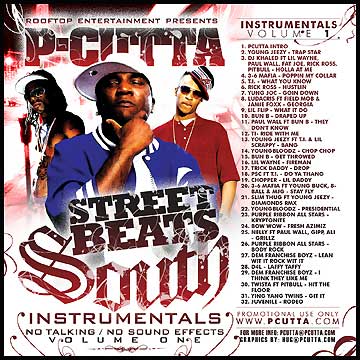 P-Cutta returns with a new Street Beats series, this time he gathers all
the best and latest beats from the dirty south and puts them on this mix,
which features tracks from Three 6 Mafia, Ludacris, Rick Ross, Young
Jeezy, T.I., Bun B, Lil'' Flip, Dem Franchize Boyz, YoungBloodz, Juvenile,
Lil'' Wayne, Bow Wow, D4L, Yin Yang Twins, Trick Daddy Twista & Pitbull.

1 - P-Cutta Intro
2 - Young Jeezy – Trap Star
3 - DJ Khaled feat. Lil' Wayne, Paul Wall, Fat Joe, Rick Ross, Pitbull – Holla At Me
4 - Three 6 Mafia – Poppin My Collar
5 - T.I. – What You Know
6 - Rick Ross – Hustlin
7 - Yung Joc – Goin Down
8 - Ludacris feat. Field Mob & Jamie Foxx - Georgia
9 - Lil' Flip – What It Do
10 - Bun B – Draped Up
11 - Paul Wall feat. Bun B – They Don't Know
12 - T.I. - Ride With Me
13 - Young Jeezy feat. T.I. & Lil' Scrappy – Bang
14 - YoungBloodz – Chop Chop
15 - Bun B – Get Throwed
16 - Lil' Wayne – Fireman
17 - Trick Daddy – Drop
18 - P$C feat. T.I. – Do Ya Thang
19 - Chopper – Lil' Daddy
20 - Three 6 Mafia feat. Young Buck, 8-Ball & MJG – Stay Fly
21 - Slim Thug feat. Young Jeezy – Diamonds (remix)
22 - YoungBloodz – Presidential
23 - Purple Ribbon All Stars – Kryptonite
24 - Bow Wow – Fresh Azimiz
25 - Nelly feat. Paul Wall, Gipp, Ali – Grillz
26 - Purple Ribbon All Stars – Body Rock
27 - Dem Franchise Boyz – Lean Wit It Rock Wit It
28 - D4L – Laffy Taffy
29 - Dem Franchise Boyz – I Think They Like Me
30 - Twista feat. Pitbull – Hit The Floor
31 - Ying Yang Twins – Git It
32 - Juvenile – Rodeo
How To DOWNLOAD