DJ Rapid Ric & DJ LL - Afta Da Relays 2K8 (Me And My Drank) (2CD)
Submitted by mfizzel on Thu, 09/18/2008 - 4:36pm.
Dirty South | Rapid Ric | Mixtape Torrents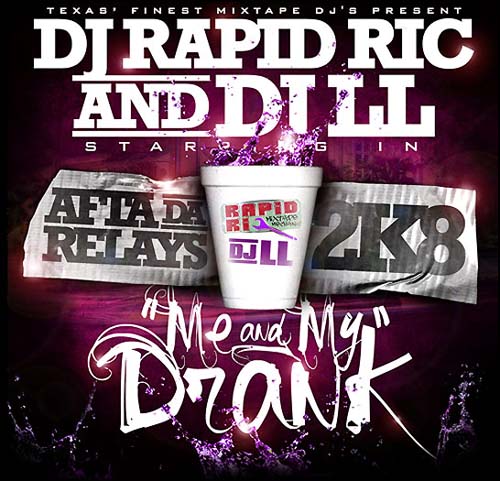 Rapid Ric and DJ LL are back from the Relays and all they wanna do is Pour Up on this new "Me & My Drank" edition double-CD set of throwed Texas music and joints from around the Southern scene.
The "Mixtape Mechanic" Rapid Ric puts his patented 'Whut It Dew" flavor on this joint, while DJ LL puts it in lower gear for all our drank-sippin', Purple tippin' promethazine fiends. Featuring new music from Bun B, Lil' Wayne, Killer Mike, Gucci & Gotti, PJ, Lil' Will, Gerald G & The Whut It Dew Family, B.G. & The HotBoys, A.B.N. and more.
CD 1
01. 00:26 DJ Ll - Speaks
02. 01:19 DJ Rapid Ric - Adr 2k8 Intro
03. 04:37 Bun B - Youre Everything
(Feat. Rick Ross, David Banner, 8ball And Mjg)
04. 07:26 Lil Wayne - Me And My Drank (Feat. Short Dawg)
05. 02:58 Manish Man - I Got Work
06. 01:40 Gerald G And Staci Russel - Mr & Mrs 512 Flow
07. 03:14 Damm D (D - Ray)-Luv Me
08. 03:01 Killer Mike - 2 Sides (Feat. Shawty Lo)
09. 04:55 B.G. - Ya Heard Me (Feat. The Hot Boys)
10. 04:45 Bossaliny - How Ya Durin (Feat. T. Tiff)
11. 03:11 Lil Will - Bust It Open
12. 03:26 P.J. - What U Hatin For
13. 04:16 Lil Scrappy - The World Is Mine (Feat. Lil Flip)
14. 01:19 Gucci Mane - Bricks (Feat. Yo Gotti)
15. 04:31 Down Bad - Out Da Boxx
16. 04:08 Lil Wayne - La La (Feat. Brisco And David Banner)
17. 04:05 Trae - So Hot
18. 03:46 Sindrome - Wwsjd
19. 03:35 David Banner - Hello
20. 03:52 A.B.N. - Still Throwed
21. 00:59 Lil Keke - Gotta Acts Real Bad (Snippet)
CD 2 (Chopped & Screwed)
01. 00:49 DJ Ll░ - Speaks
02. 01:33 Rapid Ric - Adr 2k8 Intro
03. 05:43 Bun B - Youre Everything
(Feat. Rick Ross, David Banner, 8ball And Mjg)
04. 08:43 Lil Wayne - Me And My Drank (Feat. Short Dawg)
05. 03:45 Manish Man - I Got Work
06. 01:31 Gerald G And Staci Russel - Mr & Mrs 512 Flow
07. 04:38 Damm D (D - ░Ray)-Luv Me
08. 03:50 Killer Mike - 2 Sides (Feat. Shawty Lo)
09. 05:22 B.G. - Ya Heard Me (Feat. The Hot Boys)
10. 06:08 Bossaliny - How Ya Durin (Feat. T. Tiff)
11. 03:39 Lil Will - Bust It Open
12. 04:00 P.J. - What U Hatin For
13. 05:02 Lil Scrappy - The World Is Mine (Feat. Lil Flip)
14. 01:40 Gucci Mane - Bricks (Feat. Yo Gotti)
15. 05:27 Down Bad - Out Da Boxx
16. 05:22 Lil Wayne - La La (Feat. Brisco And David Banner)
17. 04:34 Trae - So Hot
18. 04:36 Sindrome - Wwsjd
19. 03:03 David Banner - Hello
How To DOWNLOAD