DJ Envy & Tapemasters Inc. - Purple Codeine 4 (Hosted by David Banner)
Submitted by mfizzel on Wed, 01/04/2006 - 3:41pm.
Mixtape Directory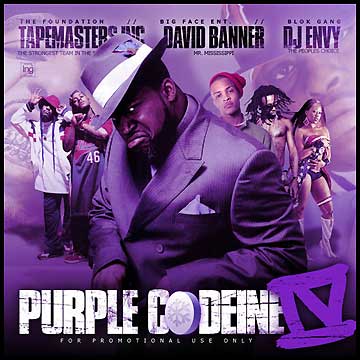 Tapemasters Inc. team up with DJ Envy as these mixtape juggernauts
are joined by the pride of Mississippi, David Banner, on this bangin' ride
through the South. Featuring 30 tracks, this mixtape features new music
from Three-6-Mafia, Scarface w/ Z-Ro & Juvenile, Lil' Flip, Paul Wall w/
Trae & Game, Chingy, Slim Thug, Mike Jones, Youngbloodz, Ludacris...

1 - Tapemasters Inc Chopped & Screwed Intro
2 - David Banner – Purple Codeine
3 - Scarface feat. Z-Ro, Juvenile & Petey Pablo – Pimp Hard
4 - Three 6 Mafia – This For Dem Bitches
5 - Scarface – Never Snitch
6 - Lil' Flip – Real Hip Hop
7 - Lil' Flip – Ya'll Ain't Got No…
8 - Paul Wall, Trae & The Game – Not Gonna Leave
9 - Scarface feat. Product – I'm A…
10 - T.I. – We Pimpin
11 - Webbie feat. Cam'ron – Touch It Or Not
12 - Youngbloodz feat. Lil' Scrappy – Excuse Me Shawty
13 - Ludacris feat. I-20 & Lil' Fate – DTP 4 Life
14 - Mike Jones feat. Busta Rhymes – I Know Ya'll Mad
15 - Slim Thug feat. Busta Rhymes – Get That Gwap
16 - Chingy – Nike Airs
17 - T.I. – Ride With Me
18 - Youngbloodz – Chop Chop
19 - David Banner Codeine Break
20 - AC – Low Low Low Freestyle
21 - Ludacris – Sweet Revenge
22 - Bonecrusher – Throw It Up
23 - Paul Wall & Redhanded – Dem Girls
24 - Dolla – Where I Come From
25 - Smoke D feat. Bun B & David Banner – Shake It
26 - 334 Mobb Freestyle
27 - Jody Breeze feat. Freeway – Fast Forward
28 - Al Gator feat. The Notorious B.I.G. – Gator Chunks
29 - Hot Wright feat. Juvenile – Go Down
30 - David Banner Outro
How To DOWNLOAD