RH Bless - Bring That Beat Back Vol 1
Submitted by mfizzel on Wed, 05/20/2009 - 7:47am.
East Coast | Mixtape Torrents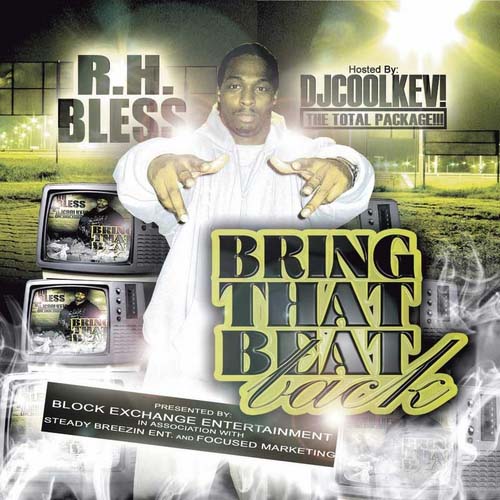 Swift, clever and poignant rhymes over classic old school beats is exactly what RH Bless delivers on Bring That Beat Back Vol. 1 via Block Exchange Entertainment. The mixtape is a dedication to legendary East coast emcees like Rakim, KRS-One, Public Enemy, Queen Latifah and many more.
Bring That Beat Back showcases the Brooklyn emcee's lyrical prowess over classic songs like Big Daddy Kane's "Ain't No Half-Stepping" and Brand Nubian's "Slow Down." The 14-track heater hosted by DJ Cool Kev is part one of a two part series which will feature Bless rapping over classic West coast-inspired beats on Vol. 2 to be released later this year.
"I wanted to pay homage to Hip-Hop's past; emcees who laid down the foundation and inspired a subsequent generation of emcees. Plus I had to grab everyone's attention and show you all my skills" says Bless about the mixtapes.
Bless is continuing to position himself as a major player on the independent scene with the impending release Vol.1. Previously he had released several mixtapes and street albums including The Struggle, the Hustle, the Prayer, Heart and Soul of the Streets and Power, Passion, Love. He's also been featured on music alongside some artists like Talib Kweli, Royce 5'9, 40 Glock and Raekwon to name a few.
1. Still No Half Stepping (Big Daddy Kane)
2. So What You Saying (EPMD)
3. Sometimes I Wish to Go Back (Justice)
4. Hip Hop Fiend (Tragedy)
5. Up in Here Like Yeah (Kid 'n' Play)
6. Boys Come and Get You (KRS-One)
7. Glad to See Another Day (Queen Latifah)
8. Hood Uniform (MC Lyte)
9. It's My Turn (Stezo)
10. Can't Slow Down (Brand Nubian)
11. I Don't Believe the Hype (Public Enemy)
12. Girl Love Me (Heavy D)
13. That's What I Give Em (Kwame)
14. Bring It Back Alive (Rakim)
How To DOWNLOAD