Rob E. Rob - 2Pac: The Official
Submitted by mfizzel on Wed, 06/28/2006 - 2:51pm.
West Coast | Rob E. Rob | Mixtape Torrents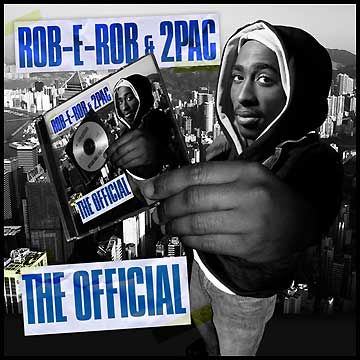 Rob E. Rob pays mixtape homage to hip-hop's fallen legend Tupac Shakur
on this non-stop, front-to-back megamix of the West Coast icon.
Rob E. Rob is a MixUnit favorite because his mixtapes are deeper than
99% of mixtapes out there and he's not afraid to cut a record. Packing
in more tracks than we thought could fit on a CD, Rob's created mega-mixes
for damn near every artist, from B.I.G. to Jada-muwah! to G-G-G-G-Unit
to Nasty Nas to Juelz.
This edition breaks down more than 70 classics, remixes, favorites, club
bangers and gives you one of the baddest Tupac mixes for your music
collection. You name it, it's on it, plus a bunch of versions and
unreleased cuts you've never heard.

1 - Intro
2 - Rob E Rob - Intro
3 - 2pac - Bomb First
4 - 2pac - All Eyes On Me
5 - 2pac - Hit Em Up
6 - Get It Started Again - Interlude
7 - 2pac - California Love
8 - 2pac - Toss It Up
9 - Kanye West - Interlude
10 - 2pac - Keep Ya Head
11 - 2pac - Hail Mary (G's Up version)
12 - Nate Dogg - Interlude
13 - 2pac - Ambitionz Of A Ryder
14 - 2pac - Down (Green Lantern mix)
15 - 2pac - Girl Friend
16 - Busta Rhymes - Interlude
17 - 2pac - Mind Made Up
18 - 2pac - Me Against The World
19 - 2pac - So Many Tears
20 - 2pac - Temptation
21 - 2pac - Nuffin Like The Old School
22 - 2pac - Heaven Aint Hard
23 - It Ain'tPersonal - Interlude
24 - 2pac - I Ain'tMad @ You
25 - 2pac - Dear Momma
26 - 2pac - Run The Streetz
27 - 2pac - Thug Passion
28 - 2pac - How Do You Want It
29 - 50 Cent - Interlude
30 - 2pac - I Get Around
31 - 2pac - All About You
32 - 2pac - Gangsta Party
33 - 2pac - Can'tSee Me
34 - 2pac - Changes
35 - 2pac - Crooked Nigga 2
36 - 2pac - Thug 4 Life
37 - 2pac - Death Around The Corner
38 - 2pac - 50 Cent
39 - 2pac & Notorious B.I.G. - Freestyle
40 - Ryde Or Die - Interlude
41 - 2pac - 'Til The End Of Time
42 - 2pac - Out On Bail
43 - 2pac - Skandalouz
44 - Mary J Blige - Interlude
45 - 2pac - Do 4 Love
46 - 2pac - Pour Out A Lil Liquor
47 - 2pac - Straight Ballin
48 - 2pac - Pain (Above The Rim soundtrack)
49 - 2pac - Thug's Mansion
50 - 2pac - Ghetto Gospel
51 - 2pac - Life Goes On
52 - 2pac - No More Pain
53 - 2pac - Ratha Be Your Nigga
54 - 2pac - Thugs Get Lonely
55 - 2pac - Black Cotton
56 - Notorious B.I.G. & 112 - Interlude
57 - 2pac - It Aint Easy
58 - 2pac - Realist Shit I Ever Wrote
59 - 2pac - Shorty Wanna Be A Thug
60 - 2pac - Only God Can Judge Me
61 - 2pac - Po' Niggas Blues
62 - 2pac - Baby Don't Cry
63 - 2pac - Check Out Time
64 - 2pac - When We Ryde
65 - 2pac - Fair Exchange
66 - 2pac- Girlfriend Interlude
67 - 2pac - Lord Knows
68 - 2pac - One Day
69 - 2pac - Out Laws
70 - 2pac - The Upper Cut
71 - 2pac - Nigga Never Ignora
72 - 2pac & Bone Thugs
73 - 2pac - Live Interview On Situations
74 - Notorious B.I.G. - Live Interview On Situations
75 - Contact - Outro
How To DOWNLOAD