DJ Rukiz & 2Pac - Unsolved Mysteries 3
Submitted by romeo on Thu, 11/30/2006 - 9:48pm.
Blends | DJ Rukiz | Mixtape Torrents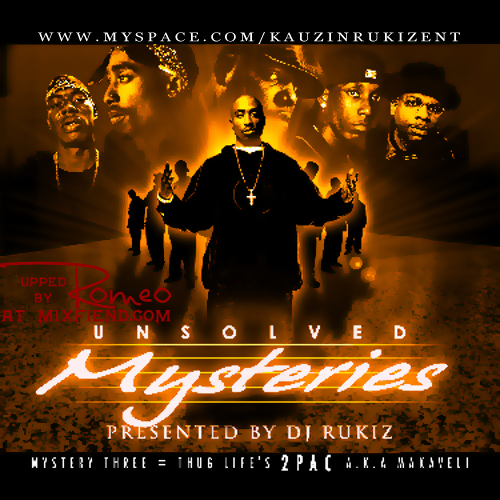 Long Live Tupac
One of the music industry's darkest mysteries, the
death of Tupac Shakur has always disturbed hip-hop
more than anything. DJ Rukiz isn't afraid to bring
up a touchy subject as he explores one of the great
Unsolved Mysteries of all-time.
With the Third edition in his hot series profiling
hip-hop's fallen soldiers, DJ Rukiz pays tribute to
the West Coast icon and legendary emcee with this
special blends mixtape. Remixing Tupac classics
from front-to-back, you can guarantee you've never
heard Tupac like this before.
01. News - Intro [0:09]
02. 2Pac - One Day (Problemz Rukmix) [1:10]
03. 2Pac - Outta Time (When You're Madd Rukmix) [3:28]
04. 2Pac - Hail Mary (Like Me Rukmix) [2:40]
05. 2Pac - Mo Money Interview 1 [0:29]
06. 2Pac - Let's Fight (Mr. Mee Too Rukmix) [0:54]
07. 2Pac - My Block (Last Real Nigga Alive) [4:49]
08. 2Pac - Gettin' Money (Go To Church Rukmix) [2:53]
09. 2Pac - Ryde Interview 2 [0:52]
10. 2Pac - Me Against The World (Ain't No Click Rukmix) [2:05]
11. 2Pac - Uppercut (Fly High Rukmix) [2:09]
12. 2Pac - Untouchable (Produced By Swizz Beats) [3:37]
13. 2Pac - Fuck You (Survivor Rukmix) [3:45]
14. 2Pac - Unborn Child (Ghetto Rukmix) [3:39]
15. 2Pac - We Ride (2Pac Remix) [3:29]
16. 2Pac - Thug Love (Chunk The Duece Rukmix) [1:12]
17. 2Pac - Runnin' (Hollywood Divorce Rukmix) [1:19]
18. 2Pac - Brenda's Got A Baby (Goin' Down Rukmix) [1:56]
19. 2Pac - Flashbacks (Sexy Love Rukmix) [3:12]
20. 2Pac - Henney (Blow Rukmix) [1:27]
21. 2Pac - Changes (Tell When 2 Go Rukmix) [3:46]
22. 2Pac - Thug's Nature (Kiss Ya Ass Goodbye Rukmix) [3:34]
23. 2Pac - California Love (Down 4 My Niggaz Rukmix) [2:45]
24. 2Pac - Crazy Verse (McFly Remix) [0:51]
25. 2Pac - Still Ballin' Verse (McFly Remix) [0:39]
26. 2Pac - Homeboy's Verse (McFly Remix) [0:35]
27. 2Pac - Cause I Had 2 (Bump That Rukmix) [3:34]
28. 2Pac - Pain (DJ Left Remix) [2:55]
29. 2Pac - Dear Mamma (DJ Lefty Remix) [4:21]
30. DJ Rukiz - Outro [0:26]
How To DOWNLOAD