DJ Egg Nice - Jay-Z & Dr. Dre: Chronic 3000
Submitted by mfizzel on Fri, 09/01/2006 - 3:52pm.
Blends | DJ Egg Nice | Mixtape Torrents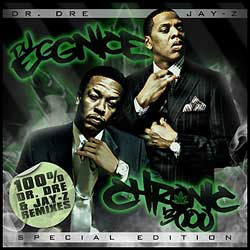 Out of the tiny state of Rhode Island comes a monster mixtape of legendary
proportions. What do you get when you cross The Chronic with The Dynasty?
The baddest Jay-Z remix tape we've ever heard.
DJ Egg Nice doctors this 100% remix/blend mixtape featuring Jay-Z verses over
Dr. Dre beats from front to back. If you thought the "Watcher" remix Dre cooked
up for Jay-Z was a good look, you'll be all over this mixtape.
If that's not enough, this mixtape is more than 50 remixes deep, seemlessly
mixed from front-to-back so you get a little bit of all your favorite Jay-Z
tracks and Dr. Dre beats. Check out the MP3 sampler (left), sit back, relax
and take notes.

1 - Intro
2 - Best Of Me (Chronic 3000 remix)
3 - City Is Mine (Chronic 3000 remix)
4 - 99 Problemz (Chronic 3000 remix)
5 - H To The Izzo (Chronic 3000 remix)
6 - Super Ugly (Chronic 3000 remix)
7 - Radio Freestyle (Chronic 3000 remix)
8 - Frontin' (Chronic 3000 remix)
9 - It's Obvious (Chronic 3000 remix)
10 - Can't Knock The Hustle (Chronic 3000 remix)
11 - My Name Is Hov (Chronic 3000 remix)
12 - Threats (Chronic 3000 remix)
13 - Money Ain't A Thing (Chronic 3000 remix)
14 - Change Clothes (Chronic 3000 remix)
15 - September 11 (Chronic 3000 remix)
16 - Take Over, Teach Me (Chronic 3000 remix)
17 - What More Can I Say (Chronic 3000 remix)
18 - Not Guilty (Chronic 3000 remix)
19 - Lucifer (Chronic 3000 remix)
20 - Sunshine (Chronic 3000 remix)
21 - Jay -Z Freestyle (Chronic 3000 remix)
22 - Fell My Truth (Chronic 3000 remix)
23 - Best Of Both Worlds (Chronic 3000 remix)
24 - Brooklyn Bad Boy (Chronic 3000 remix)
25 - Egg Nice Freestyle
26 - Jay-Z Freestyle (Chronic 3000 remix)
27 - Dirt Off Your Shoulder (Chronic 3000 remix)
28 - Jay-Z Freestyle (Chronic 3000 remix)
29 - I Never Change (Chronic 3000 remix)
30 - Crazy In Love (Chronic 3000 remix)
31 - The Ruler Is Back (Chronic 3000 remix)
32 - That Nigga Jigga (Chronic 3000 remix)
33 - Me & My Girlfriend (Chronic 3000 remix)
34 - Excuse Me Miss (Chronic 3000 remix)
35 - Song Cry (Chronic 3000 remix)
36 - Threats (Chronic 3000 remix)
37 - Skit
38 - The Ruler Is Back pt. 2 (Chronic 3000 remix)
39 - Point Out The Bounce (Chronic 3000 remix)
40 - Where's The Love (Chronic 3000 remix)
41 - Breathe Easy (Chronic 3000 remix)
42 - Girls Girls (Chronic 3000 remix)
43 - All I Need (Chronic 3000 remix)
44 - Public Service Announcement (Chronic 3000 remix)
45 - Shout Outs/Freestyle
46 - The Watcher (Chronic 3000 remix)
47 - Mike G Freestyle
48 - 99 Problemz pt. 2 (Chronic 3000 remix)
49 - Egg Nice Freestyle
50 - The Watcher pt. 2 (Chronic 3000 remix)
51 - Egg Nice Freestyle
52 - D4L (Chronic 3000 remix)
53 - Egg Nice
54 - I Am Hov (Chronic 3000 remix)
55 - What More Can I Say (Chronic 3000 remix)
56 - Egg Nice Freestyle
57 - Peedi Crakk (Chronic 3000 remix)
58 - Kanye West (Chronic 3000 remix)
59 - Mike G Freestyle
How To DOWNLOAD