Clinton Sparks & Kanye West - Smashtime Radio, Vol. 1
Submitted by mfizzel on Thu, 08/03/2006 - 2:21am.
General | Clinton Sparks | Mixtape Torrents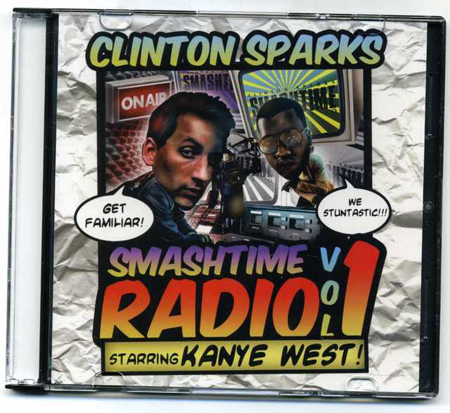 After Clinton Sparks won the Power Summit Mix Show DJ of the Year two years ago,
his electrifying radio show "Smashtime Radio" finally got the notice and recognition
it deserved.
Clinton reaches millions by radio every week, but for those not "familiar" with Mr.
Get Familiar and the globally syndicated Smashtime Radio, Sparks brings the radio
experience from the airwaves to your mixtape deck.
This new mixtape series will continue monthly, serving up new music, freestyles,
blends and original production played on Smashtime, as well as visits from the
biggest celebrities in and out of music. Smashtime Radio, vol. 2 special guest: 5
0 Cent. G-G-G-G-Get Familiar!
1 - Smashtime Radio Intro feat. Kanye West
2 - Diddy - Come To Me
3 - DMX feat. Busta Rhymes - Come Thru
4 - Claudette Ortiz feat. Mase - Back Pocket
5 - Omarion feat. Joe Budden - Entourage (remix)
6 - Cassie - Long Way To Go
7 - Kanye West (LIVE on SmashTime Radio with Clinton Sparks)
8 - Pharrell feat. Jay-Z - Young Girl
9 - Nelly Furtado feat. Rick Ross - Promiscuous (remix)
10 - Diddy - Gettin' Off
11 - Justin Timberlake feat. Timbaland - Sexy Back
12 - Kanye West (LIVE on SmashTime Radio with Clinton Sparks)
13 - Eve feat. T.I. - Cash Flow
14 - David Banner feat. Yola Da Great - Get Money
15 - Pharrell & Famlay - My Beeper
16 - Kanye West (LIVE on SmashTime Radio with Clinton Sparks)
17 - Outkast - Morris Brown
18 - Clipse feat. Slim Thug - Wamp, Wamp
19 - Fergie - London Bridge
20 - Hot Rod feat. Mary J. Blige - Be Easy
21 - Kanye West (LIVE on SmashTime Radio with Clinton Sparks)
22 - Kanye West Freestyle (LIVE on SmashTime Radio with Clinton Sparks)
23 - Ludacris feat. Pharrell - Money Maker
24 - Cory Gunz feat. Lil' Wayne - I Got Cha
25 - Dre feat. Keyshia Cole - Somebody
26 - Smashtime Radio Outro
How To DOWNLOAD