Superstar Jay - I Am Mixtapes Pt 3
Submitted by jada1212 on Fri, 09/26/2008 - 6:02am.
East Coast | Superstar Jay | Mixtape Torrents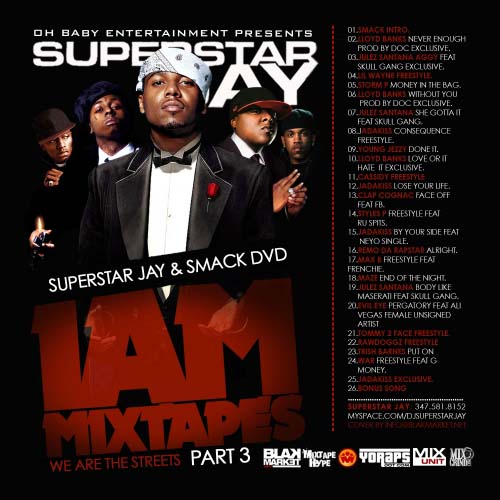 1. Smack Intro.
2. Lloyd Banks Never Enough Prod By Doc Exclusive.
3. Julez Santana Aggy Feat Skull Gang Exclusive.
4. Lil Wayne Freestyle.
5. Storm P Money In The Bag.
6. Lloyd Banks Without You Prod By Doc Exclusive.
7. Julez Santana She Gotta It Feat Skull Gang.
8. Jadakiss Consequence Freestyle.
9. Young Jezzy Done It.
10. Lloyd Banks Love Or It Hate It Exclusive.
11. Cassidy Freestyle
12. Jadakiss Lose Your Life.
13. Clapcognac Face Off Feat Fb.
14. Styles P Freestyle Feat Ru Spits.
15. Jadakiss By Your Side Feat Neyo Single.
16. Remo Da Rapstar Alright.
17. Max B Freestyle Feat Frenchie.
18. Maze End Of The Night.
19. Julezsantana Body Like Maserati Feat Skull Gang.
20. Evil Eye Pergatory Feat Ali Vegas Female Unsigned Artist Of The Week
21. Tommy 2 Face Freestyle.
22. Rawdoggz Freestyle
23. Trish Barnes Put On
24. War Freestyle Feat G Money.
25. Jadakiss Exclusive.
How To DOWNLOAD