Tapemasters Inc. - The Future Of R&B 8.5
Submitted by mfizzel on Sun, 03/12/2006 - 9:34pm.
R&B | Tapemasters Inc | Mixtape Torrents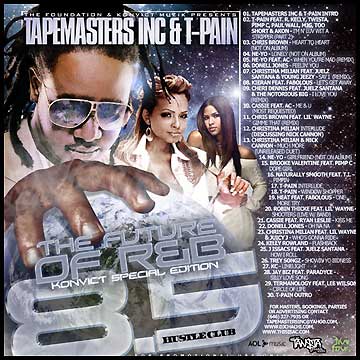 Tapemasters Inc. get in touch with the future of R&B with the new kid
on the block, T-Pain, known for his "hard&B" style and his smash hits
"I'm In Luv Wit A Stripper" and "I'm Sprung." Together, these two team
up for some R&B heat from Ne-Yo, Christina Milian, Chris Brown, Trey
Songz, Brooke Valentine & Pimp C, Akon, Cheri Dennis, Robin Thicke...

1 - Tapemasters Inc & T-Pain Intro
2 - T-Pain feat. Twista, Paul Wall, Pimp C, MJG, Too Short & Akon – I'm N' Luv Wit A Stripper (Part 2)
3 - Chris Brown – Heart To Heart (not on album)
4 - Ne-Yo – Lonely (not on album)
5 - Ne-Yo feat. AC – When You're Mad (remix)
6 - Donell Jones – Feelin' You
7 - Christina Milian feat. Juelz Santana & Young Jeezy – Say I (remix)
8 - Kieran feat. Fabolous – Let's Get Away
9 - Cheri Dennis feat. Juelz Santana & The Notorious BIG – I Love You (remix)
10 - Cassie feat. AC – Me & U
11 - Chris Brown feat. Lil' Wayne – Gimme That (remix)
12 - Christina Milian Interlude (Discussing Nick Cannon)
13 - Christina Milian & Nick Cannon – Much More (unreleased duet)
14 - Ne-Yo – Girlfriend (not on album)
15 - Brooke Valentine feat. Pimp C – Dope Girl
16 - Naturally Smooth feat. T.I. – Pimpin
17 - T-Pain Interlude
18 - T-Pain – Window Shopper
19 - Heat feat. Fabolous – One More Try
20 - Robin Thicke feat. Lil' Wayne – Shooters (LIVE with band)
21 - Cassie feat. Ryan Leslie – Kiss Me
22 - Donell Jones – Oh Na Na
23 - Christina Milian feat. Lil' Wayne & Juicy J – Who's Gonna Ride
24 - Kelly Rowland – Flashback
25 - J Issacs feat. Juelz Santana – How I Roll
26 - Trey Songz – Showin Yo Bidness
27 - KC – Limelight
28 - Jay Biz feat. Paradyce – Silly Love Song
29 - Termanology feat. Lee Wilson – Circle Of Life
30 - T-Pain - Outro
How To DOWNLOAD