DJ Smallz - Dirty R&B #11: Are You Sprung?
Submitted by mfizzel on Tue, 03/28/2006 - 12:52am.
Mixtape Directory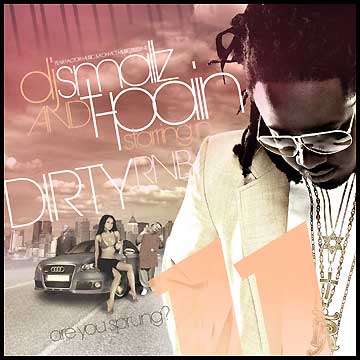 DJ Smallz recruits T-Pain (representing Tallahassee) for a Florida connection as
Southern Florida's promotional machine collaborates with North Florida's upcoming crunk R&B artist.
Together these two get you Sprung off of the hottest R&B coming out the South.
This mixtape features 28 new tracks, including the latest Southern R&B, club tracks & cameos from the
hottest Southern artists, including Chris Brown & Lil' Wayne, Pharrell, Christina Milian w/ Jeezy & Juelz,
Jazze Pha, Daron Jones (of 112), Jagged Edge, Jamie Foxx & Chamillionaire, Sleepy Brown & Big Boi and more.

1 - DJ Smallz & T-Pain – Dirty R&B Got 'Em Sprung Intro
2 - T-Pain feat. Pimp C, Paul Wall, Too Short, Twista & MJG – I'm N Luv Wit A Stripper (remix)
3 - Chris Brown feat. Lil' Wayne – Gimme That (remix)
4 - Chris Brown feat. Jay-Z & Pharrell – Yo (Green Lantern remix)
5 - Christina Milian feat. Young Jeezy & Juelz Santana – Say I (remix)
6 - Christina Milian feat. Lil' Wayne & Three 6 Mafia – Who's Gonna Ride
7 - Daron Jones (of 112) feat. Fabo (of D4L) – Dance For Me
8 - Jazze Pha & Cee-lo feat. Pussycat Dolls – Disco Chick
9 - Oobie feat. Elephant Man & Lil' Jon – Deep Control
10 - Cherish feat. Sean Paul (of YoungBloodz) – Do It
11 - Nivea feat. Jermaine Dupri – We Gets Busy
12 - Field Mob feat. Ciara & Jazze Pha – So What
13 - Jagged Edge feat. Petey Pablo – Ass Hypnotiq
14 - T.I. feat. Bun B & Mannie Fresh – Front To Back
15 - Paul Wall feat. Fabolous & Red Café – Bling Blaow (remix)
16 - DJ Khaled feat. Lil' Wayne, Paul Wall, Rick Ross, Pitbull & Fat Joe – Holla At Me Baby
17 - Jagged Edge feat. Bo Hagon & Lil' Jon – So Amazing (remix)
18 - Jaime Foxx feat. Chamillionaire – Can I Take U Home (remix)
19 - Sleepy Brown feat. Big Boi & Killer Mike – Running Away
20 - Missez feat. Pimp C & Paul Wall – Love Song (remix)
21 - Daron Jones (of 112) feat. Lil' Wayne – My Kinda Girl
22 - T-Pain feat. Nivea – Ask For It [not on album]
23 - R.L. (of Next) feat. Lil' Jon – Open The Door
24 - Juvenile feat. Brian McKnight – Addicted
25 - Young Cash feat. Remy Ma – Strippers
26 - Petey Pablo feat. Lil' Jon – On Fire
27 - J-Shin feat. Pitbull – We Can Go
28 - DJ Smallz & T-Pain – I'm N Luv Wit Dirty R&B Outro
How To DOWNLOAD