The Toronto Barksdale Family - Indictment Music
Submitted by RSS on Sun, 09/18/2011 - 6:40am.
General | Mixtape Torrents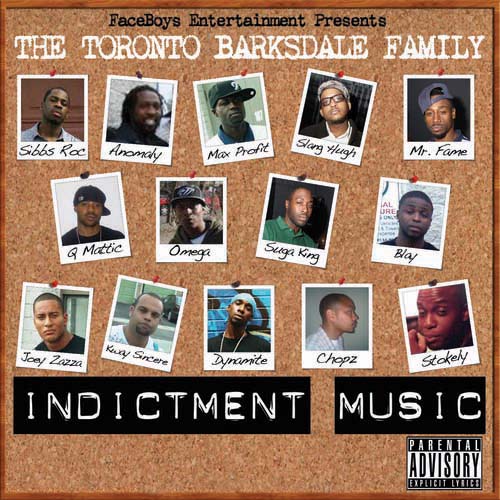 FaceBoys Entertainment is a collection of Toronto MC's with a mix of veteran status and up-comming status MC's. Short film makers, poets, and dance crews are all affiliated with FaceBoys Entertainment. A combination of True School hip hop & experimental live music give the FaceBoys a well rounded presence. The goal of the FaceBoys is to develop a community of hip hop minded and open minded people to help keep Toronto in the mix. The FaceGang has fourteen core members and dozens of affiliates.
Follow @Faceboysent!
1. The Toronto Barksdale Family - The Four Horseman feat. Kway Siincere,Sibbs Roc,Anomaly,Slang Hugh[03:08]
2. The Toronto Barksdale Family - No Suckers Allowed feat. Mr.Fame,Blay,Max Profit[01:02]
3. The Toronto Barksdale Family - All Built Up feat. Mr.Fame,Max Profit,Joey Zazza[01:51]
4. The Toronto Barksdale Family - When We At The Party feat. Max Profit,Slang Hugh,Dynamite,ColeCash,Sibbs Roc[00:56]
5. The Toronto Barksdale Family - FaceBoy 4 Life (I'm Home Baby!) feat. Mr.Fame[01:34]
6. The Toronto Barksdale Family - Half A Verse feat. Blay,Mr.Fame,Joey Zazza,Young Mattic,Sibbs Roc,Stokely,Max Profit,Slang Hugh[03:57]
7. The Toronto Barksdale Family - Everything Brand New feat. Max Profit,Mr.Fame,Young Mattic[01:21]
8. The Toronto Barksdale Family - Ya Rich Yet feat. Max Profit[00:18]
9. The Toronto Barksdale Family - More Pictures feat. Max Profit,Mr.Fame,Dynamite,Young Mattic[01:34]
10. The Toronto Barksdale Family - Wake Up! feat. Mr.Fame,Max Profit[00:25]
11. The Toronto Barksdale Family - MegaCity G'z feat. Max Profit,Mr.Fame[00:25]
12. The Toronto Barksdale Family - No Freedom feat. Max Profit[00:45]
13. The Toronto Barksdale Family - Duck When We Buck feat. Joey Zazza,Mr.Fame,Max Profit[01:32]
14. The Toronto Barksdale Family - Hangin Out feat. Max Profit,Mr.Fame[01:13]
15. The Toronto Barksdale Family - On Lock feat. Omega,Max Profit[00:51]
16. The Toronto Barksdale Family - I'm Gone feat. Max Profit,Mr.Fame,Nizzle[02:11]
How To DOWNLOAD