Wally Sparks - Southern Conference 2 (Hosted by Yung Joc)
Submitted by mfizzel on Thu, 08/10/2006 - 7:07am.
Dirty South | Wally Sparks | Mixtape Torrents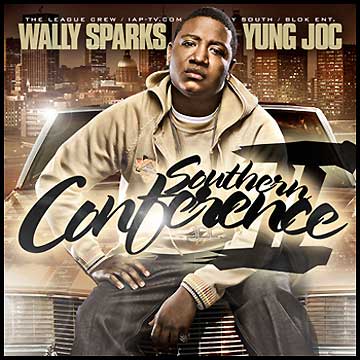 Wally Sparks aka. Walter Crunkite brought you
Ludacris and his DTP family for the first round of
the Southern Conference mixtape series, and
that joint was a banger.
Stayin' in the ATL, the sequel is blessed by the
Bad Boy South/Block Ent. newcomer Yung Joc.
Fresh off the humongous success of his debut
single "It's Goin Down" and his debut album New
Joc City, Joc has the streets of the Southeast
blazing and the clubs jumping.
This mixtape features interviews, freestyles,
remixes, unreleased album cuts, and the hottest
new records in the Dirty South. Guests include
P.Diddy, Lil Wayne, Rick Ross, Trae, Slim Thug,
Jody Breeze, and Paul Wall.

1 - P. Diddy Intro
2 - Yung Joc, Lil Wayne, Rick Ross & D4L - I'm Da Man (remix)
3 - Yung Joc & Trae - A Couple Grand (ABN remix)
4 - Yung Joc & Trae - In The Hood
5 - Big Kuntry (P$C) - Bust It Open
6 - UGK & Mr. Bigg Time - Footwork (remix)
7 - David Banner & Yola The Great - Get Money
8 - Yola The Great - Aint Gon Let Up
9 - Yung Joc - Patron
10 - Yung Joc - League Crew Radio Interview
11 - Yung Joc & Miss B - I Know You See It
12 - Yung Joc & Sunny Valentine - Fuck U Pay Me
13 - Big K.R.I.T. - Swagger Back (Hood Fame preview #1)
14 - Tytewurk - Mary Jane
15 - Webbie, Lil Boosie, & Pimp C - Swerve Pt. 2
16 - Yung Joc Speaks
17 - Yung Joc, P. Diddy, Rick Ross, Trae, Paul Wall, Slim Thug, & Jody Breeze - It's Goin Down (remix)
18 - Stat Quo - Billion Bucks
19 - B.G. & T.I. - Where U At Wit It
20 - Yung Joc & Eva Trill - Uh Huh
21 - Yung Joc - Acapella Freestyle
22 - Yung Joc & Wally Sparks - Where's My Money Bitches
23 - Yung Joc - Do Ya Bad
24 - Big K.R.I.T. - The South (Hood Fame preview #2)
25 - Yung Joc - Outro
How To DOWNLOAD