DJ Drama & Russell "Block" Spencer - Welcome To My Block
Submitted by mfizzel on Tue, 05/16/2006 - 10:04am.
Dirty South | DJ Drama | Mixtape Torrents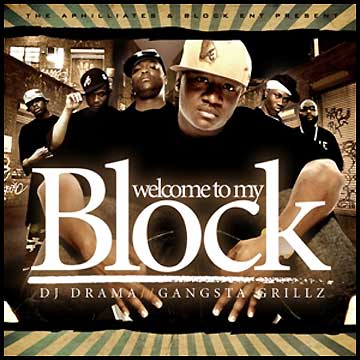 DJ Drama teams up with Russell "Block" Spencer, CEO of Block Ent.,
the man who originally brought you the group Boyz N Da Hood and got
Jazze Pha's Sho Nuff Records (w/ Ciara & Jody Breeze) up and running.
Recently inking a deal with Bad Boy South to bring you the new Young
Joc album, you might say 'It's Going Down' over on the Block. This CD
celebrates with exclusive Young Joc, Boyz N Da Hood & Jody Breeze.

1 - Block - Welcome To My Block!!!
2 - Yung Joc & The Boy Short - I'm So Fly
3 - P. Diddy - Steps In The Building
4 - Boyz N Da Hood feat. Lil' Wayne - Ride Wit Them Thangs
5 - Yung Joc - A Couple Grand
6 - Boyz N Da Hood - Run
7 - Yung Joc - Jockin
8 - Jody Breeze - 24 Hours
9 - Big Duke - feat. 62Q - Come Round
10 - Yung Joc - Do Ya Bad
11 - Yung Joc & Black Jak - That Smell
12 - Boyz N Da Hood & Dipset - SupaStar
13 - Big Gee & Jody Breeze - Shoulder Squeeze
14 - Rick Ross - This Is What I Do
15 - Yung Joc - Tell These N#$@s
16 - Yung Joc & Ying Yang Twins - God Damn
17 - Big Gee & Young Jeezy - Small Things To A Giant
18 - Big Duke & Block - If You A Gangsta
19 - Renegade - Aint Nuthin
20 - Outro
21 - Yung Joc - It's Goin Down
How To DOWNLOAD