Worldwide Legacy Presents - Hell In Harlem Part II
Submitted by mfizzel on Mon, 12/05/2005 - 8:13pm.
Mixtape Directory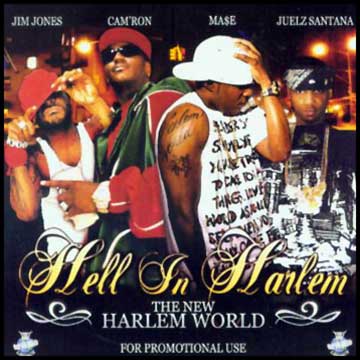 Worldwide Legacy brings you the Harlem joint you're waiting on (but
will never get otherwise) with a Harlemworld block party featuring Mase
and the Dipset family, Cam'ron, Juelz Santana, Jim Jones and Un
Kasa. Also featuring Jae Millz, J Young & Taj Mahal, this one is strictly
for those wishing they'd take it back to the Children of the Corn days.
1 - Jim Jones - Dissin' Jay-Z & Memphis Bleek
2 - Juelz - Not My Baby
3 - Cam'ron feat. Freaky Zeeky - Somebody's Gotta Die Tonight
4 - Murda Mase & J Young - Whisper Freestyle
5 - J Young feat. Tug - Nine On My Side
6 - Jae Millz - Stop
7 - Jim Jones - Baby Girl
8 - Cam'ron Freestyle
9 - Taj Mahal feat. Un Kasa - Harlem
10 - Mase feat. Amerie - Talkin' Bout
11 - Cam'ron feat. Juelz Santana - I Choose You
12 - J Young feat. Pussy Cat Doll - Don't Cha
13 - Mase - I Already Got Money
14 - Mase - Lean Back (remix)
15 - Jim Jones Speaks On Mase
16 - Jim Jones Freestyle
17 - Mase - I Will Survive
18 - Mase Speaks On Cam'ron
19 - Mase feat. Kanye West - Jesus Walks (remix)
20 - Cam'ron Speaks On Mase
21 - Cam'ron feat. Juelz Santana & Un Kasa - Take 'Em To Church
22 - Loon Interview
23 - Mase feat. Kanye West - Be Alright
24 - J Young - You Know What It Is
25 - Diplomats - Dipset Symphony
26 - Jim Jones - Summer In Miami
27 - J Young - When We Around
How To DOWNLOAD