DJ Capone - Diary Of A Diplomat #3
Submitted by mfizzel on Thu, 05/11/2006 - 6:44am.
East Coast | DJ Capone | Mixtape Torrents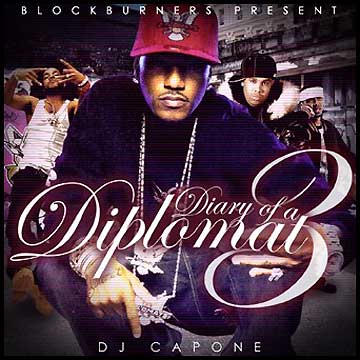 DJ Capone is on 145th and Broadway (yep, HARLEM) and it's not a
secret why dude's uptown. The Diplomats are grinding out new music
weekly, dropping mixtapes, movie and albums. You name it, they're
up on it. So make sure you stay up on the Dips with this new mixtape
full of music from Cam, Juelz, J.R., Hell Rell, 40 Cal, Bezel & Max B.

1 - J.R. Writer feat. Cam'ron, Juelz Santana & Hell Rell - Grill Em (remix)
2 - Bezel - Freestyle
3 - 40 Cal. - Is You Rydin
4 - Juelz Santana & J.R. Writer - What You Know About Crack (T.I remix)
5 - Cam'ron & Lil Wayne - Suck It Or Not
6 - Jim Jones & Max B - Bright Lights Big City
7 - Jim Jones - Straight Drop
8 - Hell Rell & J.R. Writer - Murda Mase Who? (Dissin' Mase)
9 - Cam'ron & Hell Rell - Bullets And Gun Smoke
10 - J.R. Writer - Just Let A Nigga
11 - 40 Cal. - I Bang Mine
12 - Chubby Baby feat. Hell Rell & J.R. Writer - Chitty Bang Bang
13 - Hell Rell & Cam'ron - Laughung At You
14 - Juelz Santana - I Got No Time
15 - 40 Cal. - Am How I Am
16 - Chubby Baby - Laugh Now Cry Later
17 - J.R. Writer feat. 40 Cal. - We Gettin Money Ova Here
18 - J.R. Writer - Im A Real G
19 - Jim Jones feat. Max B, Mel Matrix & Stack Bundles - A New York Minute
20 - Juelz Santana - Losing My Love
21 - Emperor Chi - Yall Dont Want War
22 - Note - Freestyle
23 - V. I. P - Freestyle
How To DOWNLOAD