Young Hittaz - Bay 2 LA (Hosted By Hoodrat Miguel)
Submitted by mfizzel on Tue, 07/01/2008 - 7:21pm.
West Coast | Mixtape Torrents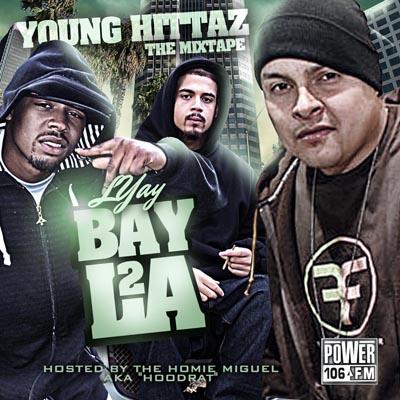 This mixtape features Roscoe Umali, Stressmatic, Glasses Malone, Colby O'donis
and Devi Dev of 93.5 K-day. With production by 808,Terrace Martin, Cousin Fik,
Marlon and Big Faahz of Power 106. Hoodrat Miguel handled the hosting duties as
we blend the hyphyness of the BAY and the swag of LA.
1.Hoodrat Miguel Intro
2.Real Life (Produced by Terrace Martin)
3.Mary Boppins (Produced by Big Faahz)
4.Im Good Ft. Dash (Produced by Marlon)
5.Glasses Malone Speaks (Hoo Bangin/Cash Money)
6.Outta Town (Produced by Big Faahz)
7.Stalker Ft. Roscoe Umali, Stress
8.We Leanin (Produced by 808)
9.Cali Love (Produced by Marlon)
10.Colby O'donis Speaks (Konvict Muzik)
11.No Dont Stop Ft Dash (Produced by TKNK)
12.Hustlas Life Ft Dash (Produced by Big Faahz)
13.My Voice ft. Stress (Produced by 808)
14.Devi Dev of 93.5 K-Day Speaks
15.Finer With Time
16.What Part Of The Game (Produced by Cousin Fik)
17.Cali Connex
18.Hoodrat Miguel Outro
How To DOWNLOAD