Chilla Jones - The Juggernaut (Mixed By DJ 2Thirteen)
Submitted by mfizzel on Sat, 07/10/2010 - 7:19am.
Unsigned Hype | Mixtape Torrents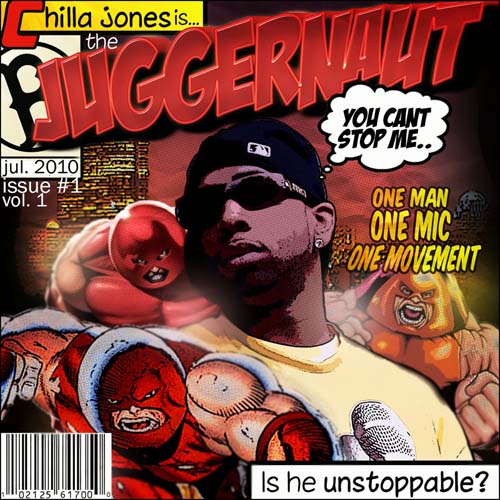 Contact: YouTube | MySpace | Twitter
Hit the break for more info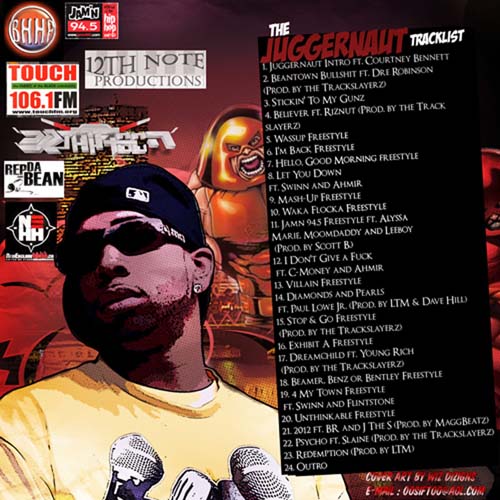 Chilla Jones is back with a brand new mixtape and a brand new alias; The
self-proclaimed "Freestyle Champ" and "Timebomb" has another nickname to
add to his list: The Juggernaut.
This mixtape features production from the Trackslayerz, as well as
collaborations with Slaine of La Coka Nostra, J the S, Dre Robinson and much
more. You can find some of his recent releases including" Psycho" featuring
Slaine, and "Beantown Bullshit" featuring Dre Robinson, on this project, as well
as plenty of his signature freestyles.
This is Chilla's 6th release in the last 2 and a half years and looks to be
his most notable.
01 Juggernaut Intro (Ft. Courtney Bennett)
02 Beantown Bullshit (Ft. Dre Robinson) (Prod. By The Trackslayerz)
03 Stickin' To My Guns
04 Believer (Ft. Riznut) (Prod. By The Trackslayerz)
05 Wassup Freestyle
06 I'm Back Freestyle
07 Hello, Good Morning Freestyle (Ft. Rod And Ro)
08 Let You Down (Ft. Swinn And Ahmir)
09 Mash-Up Freestyle
10 Wocka Flocka Freestyle
11 Jamn 94.5 Freestyle (Ft. Alyssa Marie, Moomdaddy And Leeboy) (Prod. By Scotty
B)
12 I Don't Give A Fuck (Ft. C-Money And Ahmir)
13 Villain Freestyle
14 Diamonds And Pearls (Ft. Paul Lowe Jr.) (Prod. By Ltm & Dave Hill)
15 Stop & Go Freestyle (Prod. By The Trackslayerz)
16 Exhibit A Freestyle
17 Dreamchild (Ft. Young Rich) (Prod. By The Trackslayerz)
18 Beamer, Benz Or Bentley Freestyle
19 4 My Town Freestyle (Ft. Swinn And Flintstone)
20 Unthinkable Freestyle
21 2012 (Ft. Br And J The S) (Prod. By Maggbeatz)
22 Psycho (Ft. Slaine) (Prod. By The Trackslayerz)
23 Redemption (Prod. By Ltm)
24 Outro
How To DOWNLOAD